Spiced Maple Bananas
---
Fruit Desserts / Recipes with Maple Syrup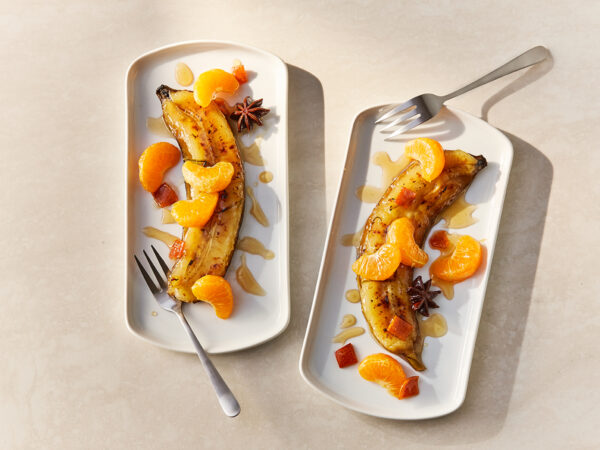 Ingredients
4

clementines

1

lime

3/4 cup

maple syrup (preferably golden syrup for its delicate flavour)

2 1/2 tbsp

ginger, cut into pieces

2

sprigs fresh mint

1

star anise

1

pinch turmeric

2

large bananas, unpeeled

3 oz, more or less, to taste

porto or Grand Marnier
Method
Wash the clementines and lime. Peel the clementines and cut the peels into strips. Zest the lime and set aside.
In a saucepan, blanch the clementine strips twice. Empty the pan of water and put in half of the maple syrup. Candy the clementine strips in this, over very low heat, for about 1 hour, taking care not to let it boil.
Squeeze 2 clementines and the lime and set the juice aside.
Supreme the 2 remaining clementines, removing all the white pith and slicing into sections. Place in the fridge.
Put the remaining half of maple syrup into a saucepan and bring to a boil. Remove from heat and add the citrus juice, stirring well. Add the ginger, mint, star anise, and turmeric. Cook 2 minutes over low heat to a caramel consistency. Allow to infuse off the heat until it cools. Filter the caramel through a sieve or strainer.
Pour half the caramel into a non-stick pan over medium heat. Cut the bananas lengthwise with the peel. Add the unpeeled bananas to the pan, caramelize on both sides, and set aside.
In the same pan, quickly cook the cold clementine supremes in the caramel. Drain and arrange on the flesh side of the banana halves.
Still in the same pan, add the remaining caramel and the lime zest. Warm over low heat for 1 or 2 minutes, then stir in the port or Grand Marnier.
Assembly
On a serving plate, place a half-banana, top with caramel-coated clementine supremes, and decorate with the candied clementine peels.
The Quebec Maple Syrup Producers are not in any way responsible for the identification or presence of allergens in recipes or for the classification of any recipe as vegetarian or vegan.
Hundreds of Delicious Recipes
Maple is a special addition to any recipe, from appetizer to dessert. Find one that's perfect for you or your occasion!