Parsnips with Vegetables and a Maple Sauce
---
Recipes with Maple Syrup / Vegetables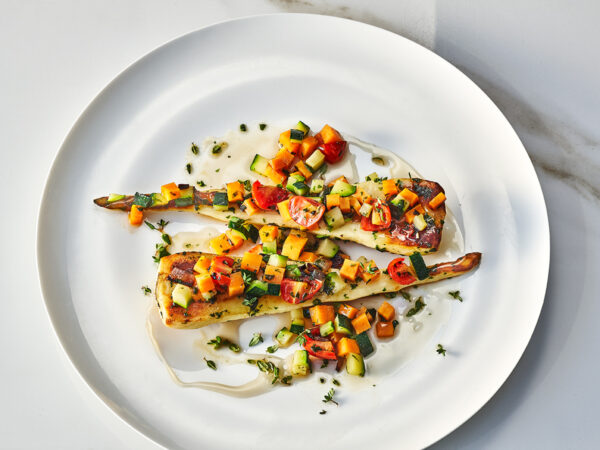 Ingredients
1/2 cup

sweet potatoes, peeled and diced finely

2 tbsp

olive oil

2

parsnips, peeled and cut in half lengthwise

2

French shallots, peeled and chopped coarsely

1

stem of thyme

1

bay leaf

1/4 cup

parsley, chopped

2/3 cup

maple syrup (preferably dark syrup for its robust flavour)

1/2 cup

zucchini, diced finely

1/4 cup

cherry tomatoes, quartered

2 tbsp

olive oil

1

pinch sea salt
Pepper

4

whole stems of parsley, to garnish

4

sage leaves, to garnish
Method
Blanche the sweet potatoes. Set aside.
Heat 30 ml (2 tbsp) olive oil in a skillet or large saucepan and add the parsnip halves, shallots, all the herbs, and the sea salt. Add a little water to the bottom of the pan and cook, covered, over very low heat until the liquid is evaporated.
Remove the lid, add the maple syrup, and finish cooking the parsnips for about 10 minutes, turning them frequently. Set parsnips aside.
Strain the cooking liquid and set aside.
In a skillet, quickly fry the diced vegetables and the tomatoes in 30 ml (2 tbsp) of olive oil. Season with salt and pepper.
Presentation
On a plate, lay a half-parsnip and cover the flat surface with vegetables. Add sauce and garnish with the parsley and sage.
The Quebec Maple Syrup Producers are not in any way responsible for the identification or presence of allergens in recipes or for the classification of any recipe as vegetarian or vegan.
Hundreds of Delicious Recipes
Maple is a special addition to any recipe, from appetizer to dessert. Find one that's perfect for you or your occasion!