Chicken Braised in Red Wine with Maple Syrup
---
Chicken / Pasta / Recipes with Maple Syrup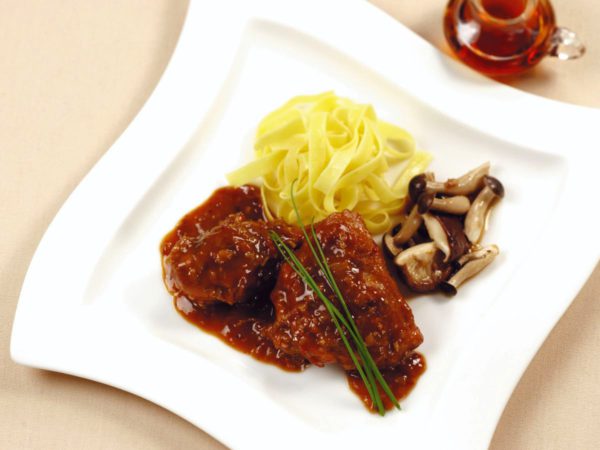 Ingredients
4

chicken thighs, bone-in

1 tablespoon

butter

2

strips thinly sliced bacon

3 1/2 oz

onions

3 tablespoons

maple syrup (Dark)

1/3 teaspoon

black pepper

3/4 cup

red wine

3-4 tablespoons

demi-glace sauce

3/4 cup

stock

3 1/2 oz

shimeji mushrooms

2

fresh shiitake mushrooms

1/4 oz

white wine

1/4 oz

butter, plus more to taste

2 1/2 oz

tagliatelle
Parsley, to taste
Salt and pepper, to taste
Method
Halve the chicken thighs through the joint.  Melt butter in a heavy pan, brown both sides of the chicken pieces, remove, and season with salt and pepper.
Mince bacon and onions.
Break the shimeji mushrooms into easy-to-eat pieces and cut shiitakes into 2-4 pieces.  Put the mushrooms in a small pot, add white wine, butter, salt, and pepper.  Cover and simmer for 2-3 minutes.
Sauté bacon and onions in the pan from the chicken until lightly browned, add 30 ml (2 tablespoons) of flour and sauté some more, and add the chicken back in.
Add red wine, demi-glace sauce, stock, maple syrup, and black pepper. When this comes to a boil, cover, turn heat to low, and braise until the meat starts to come away from the bone.
Add shimeji mushrooms during cooking, along with juices.
Boil tagliatelle in plenty of hot water with salt, drain, sauté in butter, and season with salt and pepper.
Taste and adjust seasoning by adding maple syrup, salt and pepper. Serve with tagliatelle.
The Quebec Maple Syrup Producers are not in any way responsible for the identification or presence of allergens in recipes or for the classification of any recipe as vegetarian or vegan.
Hundreds of Delicious Recipes
Maple is a special addition to any recipe, from appetizer to dessert. Find one that's perfect for you or your occasion!