Maple Dark Chocolate Cake
---
Cakes / Recipes with Maple Syrup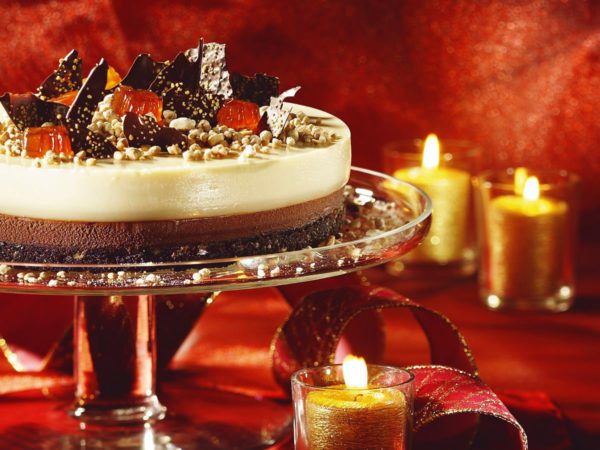 Ingredients
3 tablespoons

unsalted butter, melted

1 1/3 cup

chocolate cookie crumbles

2/3 cup

chopped walnuts

1 cup

35% whipping cream

8 oz

dark (semi-bitter) chocolate, finely chopped

2 tablespoons

hot or cold coffee

1 cup

maple syrup (preferably very dark syrup for its strong flavour)

1 cup

milk

1 1/4 cup

35% whipping cream

2

packets of flavourless gelatine

1/2 cup

cold water
Method
Preheat the oven to 190 °C (375 °F).
Mix butter with cookie crumbles and nuts. Press onto the bottom of a 20-cm (8-in) springform pan and bake for 10 minutes.
Meanwhile, heat the cream on low heat until it steams.
Remove from heat, add the chocolate and coffee and whisk until smooth. Cool and pour onto the cooled baked crust.
Refrigerate until the chocolate is firm, or for about 2 hours.
In a casserole, heat maple syrup with milk and cream until the mixture is steaming.
Meanwhile, combine the gelatine with water until it swells and dissolve it in the hot milk.
Cool to room temperature and pour onto the firm chocolate layer. Refrigerate for at least 2 hours.
To unmold the cake, run a knife along the edge of the cake. Decorate with maple syrup products (jelly, sprinkles, sugars, candy, etc.).
Energy: 422 cal
Carbohydrate: 47 g
Fats: 24 g
Excellent source of dietary fiber
The Quebec Maple Syrup Producers are not in any way responsible for the identification or presence of allergens in recipes or for the classification of any recipe as vegetarian or vegan.
Hundreds of Delicious Recipes
Maple is a special addition to any recipe, from appetizer to dessert. Find one that's perfect for you or your occasion!