Maple-Apple Angel-Food Verrines
---
Fruit Desserts / Recipes with Maple Syrup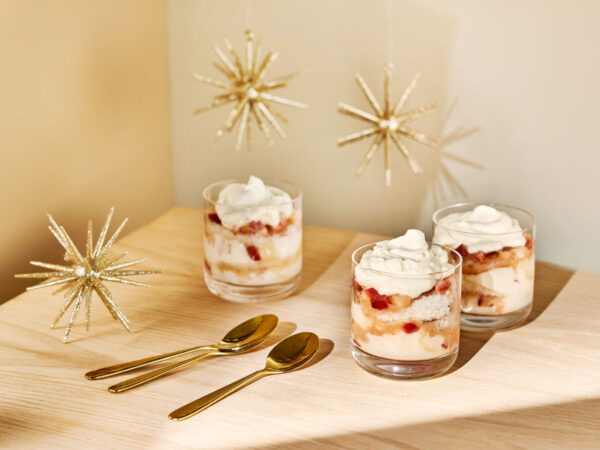 Ingredients
1/2 cup

maple syrup (preferably amber syrup for its rich flavour)

1 tbsp

maple syrup (preferably amber syrup for its rich flavour)

1/3 cup

35% whipping cream

1/2 cup

35% whipping cream

1 tbsp

salted butter

1

large red apple (ideally Cortland, Empire or Lobo), unpeeled, cored, and diced

1/2 tsp

pure vanilla extract
About 1/2 of an angel food cake, home-made or store-bought
Method
Put 125 ml (1/2 cup) maple syrup into a saucepan and boil for 5 minutes.
Add the 80 ml (1/3 cup) of cream and melt the butter. Bring to a boil, then simmer for 5 minutes, stirring.
Remove from heat, add the diced apple, and let cool.
In a bowl, whip the 125 ml (1/2 cup) of cream with the 15 ml (1 tbsp) of maple syrup and the vanilla. Place in the fridge.
Cut the cake into slices about 6 mm (1/4 in.) thick, then use the verrine glasses to cut it into circles*.
Put the maple-whipped cream into the verrine bottoms, add a layer of maple-apple sauce, then a cake circle. Repeat these steps, then top with the whipped cream and sauce.
Refrigerate until ready to serve.
* For 6 verrines, cut 12 circles; for 8 verrines, cut 16 circles.
Storing
The maple-apple sauce will keep 1 week in the fridge.
The whipped cream will keep for 24 hours in the fridge.
Assembled verrines will keep in the fridge for 24 hours and in the freezer for 1 month.
The Quebec Maple Syrup Producers are not in any way responsible for the identification or presence of allergens in recipes or for the classification of any recipe as vegetarian or vegan.
Hundreds of Delicious Recipes
Maple is a special addition to any recipe, from appetizer to dessert. Find one that's perfect for you or your occasion!