Maple Apple-Cinnamon French Toast
---
Crepes / Eggs / Pancakes / Recipes with Maple Syrup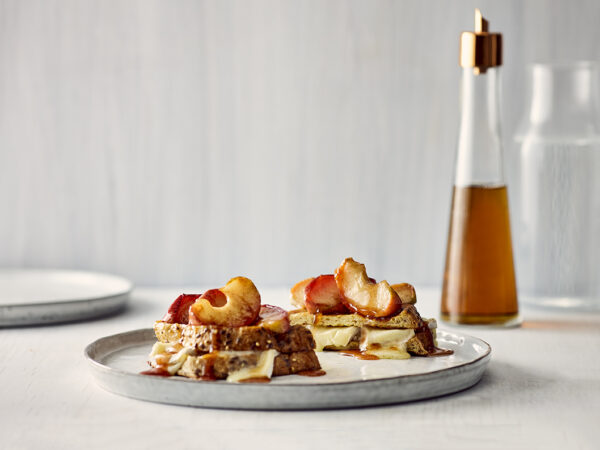 Ingredients
2 tbsp

butter

4

apples, quartered

1/2 tsp

ground cinnamon

1/2 cup

maple syrup (preferably golden syrup, for its delicate flavour)

4

eggs

1 cup

milk

2 tbsp

maple syrup (preferably golden syrup, for its delicate flavour)

1 tsp

pure vanilla extract

8

slices bakery-style multigrain bread
Butter for the pan

1/2 lb

cheese (Cheddar, Brie, Swiss, Oka, etc.), sliced
Method
Set a pan on medium heat, melt the butter, and cook the apples in it for 5 minutes.
Add the cinnamon and 125 ml (1/2 cup) maple syrup, and cook 5 minutes more.
Meanwhile, beat the eggs with the milk, the 30 ml (2 tbsp) maple syrup, and the vanilla
Soak the bread slices in the egg mixture, a few minutes on each side.
Preheat a large pan on medium heat, melt a little butter, and fry each slice 3 minutes per side. Keep in a 150° C (300° F) oven while you do the remaining slices, or use two pans.
Serve sandwich-style: a slice of cheese between 2 slices of French toast, topped with apple sauce.
Storing
Cooked French toast and apple-cinnamon sauce will keep 4 – 5 days in the fridge.
The Quebec Maple Syrup Producers are not in any way responsible for the identification or presence of allergens in recipes or for the classification of any recipe as vegetarian or vegan.
Hundreds of Delicious Recipes
Maple is a special addition to any recipe, from appetizer to dessert. Find one that's perfect for you or your occasion!