Maple Sugar Belgian (Liegeoise) Waffles
---
Pancakes / Recipes with Maple Flakes / Recipes with Maple Sugar / Recipes with Maple Syrup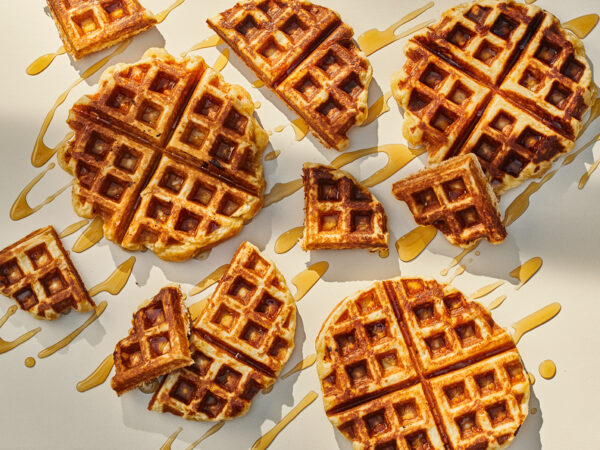 Ingredients
2 1/8 cups

flour

1/3 cup

maple sugar

2

pinches salt

2 tsp

dry yeast

1/2 cup

lukewarm milk

4 tbsp

medium eggs or one whole egg and one egg yolk, beaten

1 cup

unsalted butter, tempered, cut into pieces

1 cup

maple flakes
Method
In a stand mixer, use the dough hook attachment to mix the flour, maple sugar, and salt.
Dilute the yeast in the warm milk and add to the dry mixture. Add the eggs and mix until the dough comes away from the bowl. Add the butter piece by piece and mix on medium speed until smooth (about 10 minutes).
Cover the bowl with cling wrap and let the dough rise until it doubles in volume (about 1 hour).
Once the dough has risen, turn the dough hook at low speed while adding the maple flakes.
Put the dough between two pieces of parchment paper and roll out to a thickness of 1 cm (3/8 in). Refrigerate for 30 minutes.
Use a cookie cutter to make 10 cm (4 in) circles, or to the size of your waffle iron.
Preheat waffle iron to medium.
Put dough circles into the waffle iron and cook each about 2½ minutes, depending on your appliance's power.
RESTING TIME: 1 hour
REFRIGERATION TIME: 30 minutes
The Quebec Maple Syrup Producers are not in any way responsible for the identification or presence of allergens in recipes or for the classification of any recipe as vegetarian or vegan.
Hundreds of Delicious Recipes
Maple is a special addition to any recipe, from appetizer to dessert. Find one that's perfect for you or your occasion!