Maple Kanafeh
---
Fancy Pastries / Recipes with Maple Syrup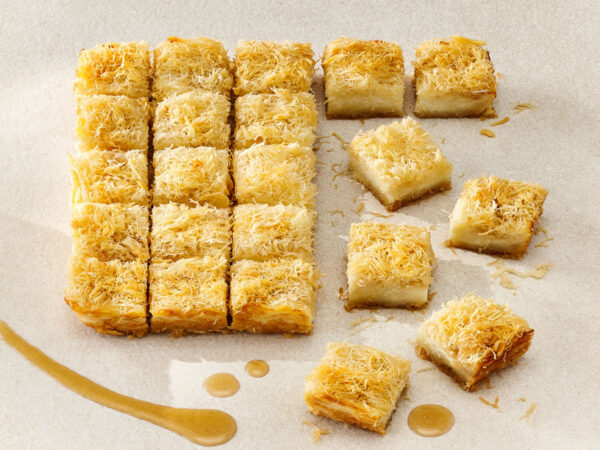 Ingredients
13 oz

kataifi (shredded phyllo pastry also called kanafeh)

1 cup

unsalted butter, melted

1/4 cup

cornstarch

2 cups

cold milk

2 cups

35% cooking cream

1 cup

maple syrup (preferably dark syrup, for its robust flavour), very cold
Method
Preheat oven to 180° C (350° F). Butter a 20 cm (8 in) square baking dish. Set aside.
Using scissors, cut the kanafeh into approx. 3 cm (1 1/8 in) pieces.
In a bowl, combine kanafeh and melted butter, separating the shreds. Spread half in the dish and pat down lightly to completely cover the bottom. Reserve.
In a saucepan, off the heat, dilute the cornstarch in the milk. Put on medium-low heat and, stirring with a whisk, add the cream to obtain a thick mixture. Spread this over the kanafeh in the dish. Scatter the rest of the kanafeh on top.
Bake uncovered for about 1 hour.
Remove from oven and, using a knife, loosen the kanafeh from the sides of the dish. Pour the cold syrup on top and tilt the dish to all sides so the syrup is well-distributed, saturating all the kanafeh.
Allow to cool, remove from dish, and cut into squares.
The Quebec Maple Syrup Producers are not in any way responsible for the identification or presence of allergens in recipes or for the classification of any recipe as vegetarian or vegan.
Hundreds of Delicious Recipes
Maple is a special addition to any recipe, from appetizer to dessert. Find one that's perfect for you or your occasion!