Marbled Yule Log with Candied Nuts
---
Cakes / Recipes with Maple Syrup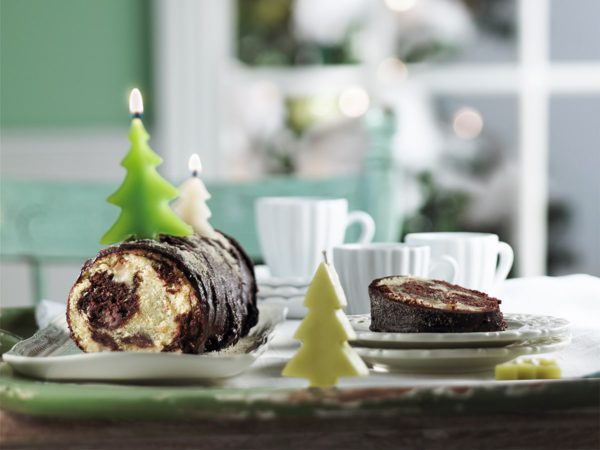 Ingredients
1 tablespoon

butter, softened

1/3 cup

dark chocolate, chopped

1 cup

all-purpose flour

2 teaspoons

baking powder

1

pinch of salt

1/3 cup

butter, softened

2/3 cup

maple syrup (preferably dark syrup for its robust flavour)

2

eggs

2

ripe pears, peeled and chopped coarsely

1/2 cup

milk

1/2 cup

spirits, such as Cognac, pear brandy or rum
Icing
1/4 cup

maple syrup

1/4 lb

dark chocolate, chopped

2 tablespoons

butter
Method
Preheat the oven to 180 °C (350 °F).
Butter the insides of two empty maple syrup cans and line them with parchment paper, leaving 6 cm (2 3/8 in) of overhang. Set aside.
Gently melt the chocolate using a double boiler.
As the chocolate melts, mix together the flour, baking powder, salt, butter, maple syrup and eggs in a bowl, then stir in the pears and the milk. Mix a quarter of this batter into the chocolate.
One spoonful at a time, pour the two mixtures into the prepared cans, alternating each spoonful. Fill the cans 3/4 full and stir gently with a fork to create a marbled effect. Bake the cans for 50 minutes.
Let cool, then pour 60 ml (1/4 cup) of spirits into each can. Cover with plastic wrap and refrigerate for 2 weeks.
Right before serving, prepare the icing. In a heavy-bottomed saucepan, gently melt the icing ingredients. Remove from the heat and let cool for 1 hour.
Whisk well until the mixture thickens.
Unmold the cakes, trim the ends so they are perfectly straight, and place them end to end. Frost with the icing.
The Quebec Maple Syrup Producers are not in any way responsible for the identification or presence of allergens in recipes or for the classification of any recipe as vegetarian or vegan.
Hundreds of Delicious Recipes
Maple is a special addition to any recipe, from appetizer to dessert. Find one that's perfect for you or your occasion!