Spicy Guinea Fowl With Maple Syrup Glaze
---
Poultry / Recipes with Maple Syrup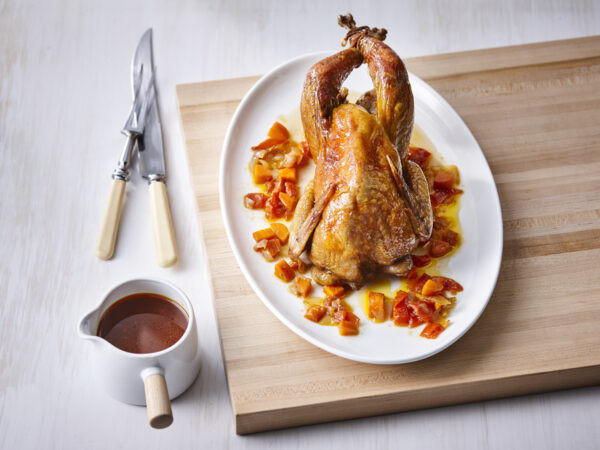 Ingredients
3.3 lbs

Guinea fowl

1 tablespoon

salted herbs (mixture of herbs)

3 tablespoons

butter

1

chopped onion

2

diced carrots

1

chopped tomatoes

1 cup

chicken stock

1/2 cup

maple syrup (preferably Dark for its robust taste)

1 tablespoon

Espelette or Sambal pepper

1 tablespoon

light soya sauce

1 tablespoon

vegetable oil

1

orange (zest)
Salt and pepper (to taste)
Method
Stuff salted herbs inside the fowl. Put in a roasting pan and baste with butter.
Roast in the oven at 200 ˚C (400 ˚F) for 10 minutes.
Add onion, carrots and tomato, then reduce temperature to 190 ˚C (375 ˚F) and roast for another 15 minutes. Add chicken stock.
In a bowl, combine maple syrup, pepper, soya sauce and vegetable oil. Add orange zest and season with salt.
Baste fowl every 5 minutes until you have used up all of the sauce (about 20 minutes) and then finish by broiling uncovered for another 1 or 2.
Carve the fowl and serve with cooking juice.
Serve with a puree of chestnuts, celeriac or squash.
The Quebec Maple Syrup Producers are not in any way responsible for the identification or presence of allergens in recipes or for the classification of any recipe as vegetarian or vegan.
Hundreds of Delicious Recipes
Maple is a special addition to any recipe, from appetizer to dessert. Find one that's perfect for you or your occasion!