Cool Maple Summer Tarts
---
Recipes with Maple Sugar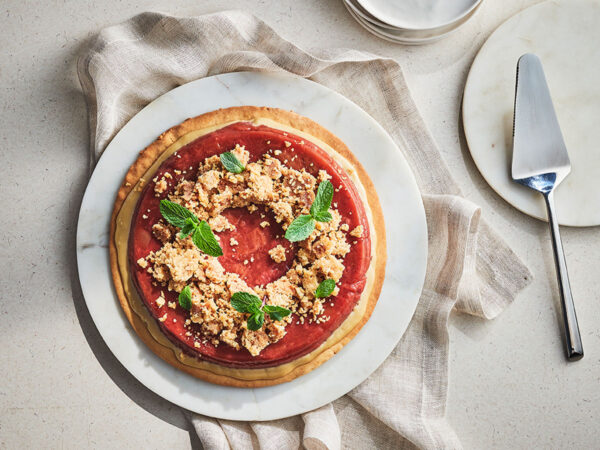 Ingredients
SABLÉ BRETON CRUSTS
1 3/4 cup

all purpose flour

1/2 tsp

salt

2 tsp

baking powder

3

medium egg yolks

1 cup

maple sugar

3/4 cup

beurre pommade (softened butter)
CRUMBLE AMANDE-ÉRABLE
1/3 cup

beurre pommade

1/4 cup

maple sugar

1/4 cup

maple chunks

2/3 cup

almond powder

1/2 cup

all purpose flour

1

pinch salt
MAPLE-ALMOND CRUMBLE
5 tsp

pectin

1 tsp

maple sugar

1 cup

fresh strawberries

2 cups

rhubarb, chopped

2/3 cup

maple sugar
MAPLE PASTRY CREAM
1 cup

milk

1/2 cup

maple sugar

3 tbsp

all purpose flour

3

large egg yolks
Method
SABLÉ BRETON CRUSTS
In a bowl, combine the flour, salt, and baking powder. Set aside.
In another bowl, beat the egg yolks with the sugar until the mixture is whitened. Add the beurre pommade, then the dry ingredients.
Put the dough into plastic wrap, form into a ball, and refrigerate 1 hour.
Take the dough out of the fridge and preheat the oven to 160° C (325° F).
On a floured surface, roll out the dough to a thickness of 9 mm (about 3/8 in) and form into two rounds 23 cm (9 in) in diameter. Transfer to a baking sheet.
Bake for 22 minutes. Set aside.
MAPLE-ALMOND CRUMBLE
Preheat oven to 180° C (350° F).
Put the beurre pommade in a bowl, add all the other ingredients, and mix into a crumble.
Place on a paper-lined baking sheet and bake 15 minutes.
Set aside.
STRAWBERRY-RHUBARB COMPOTE
In a bowl, combine the pectin and maple sugar (10 g [1 tbsp]).
In a saucepan over medium heat, cook the strawberries, rhubarb, and maple sugar until done (about 5 minutes). Use a whisk to mash slightly, add the pectin-maple sugar mixture and cook another 2 minutes.
Pour mixture into two round 20 cm (8 in) moulds lined with plastic wrap.
Refrigerate until set (about 1 hour).
MAPLE PASTRY CREAM
Bring the milk to a boil in a small saucepan.
Meanwhile, combine the sugar and flour in a bowl. Add the egg yolks and beat until the mixture whitens. Stir in the hot milk.
Pour mixture into a heavy-bottomed saucepan and cook over medium-low heat, stirring with a whisk until it comes to the boil.
Remove from heat and let cool.
ASSEMBLY
Cover the sablé breton crusts with maple pastry cream.
Place the strawberry-rhubarb compote rounds on top.
Spread crumble over the tops of both.
The Quebec Maple Syrup Producers are not in any way responsible for the identification or presence of allergens in recipes or for the classification of any recipe as vegetarian or vegan.
Hundreds of Delicious Recipes
Maple is a special addition to any recipe, from appetizer to dessert. Find one that's perfect for you or your occasion!