Crispy Maple-Pork Chinese Dumplings
---
Recipes with Maple Flakes / Recipes with Maple Sugar / Recipes with Maple Syrup / Starters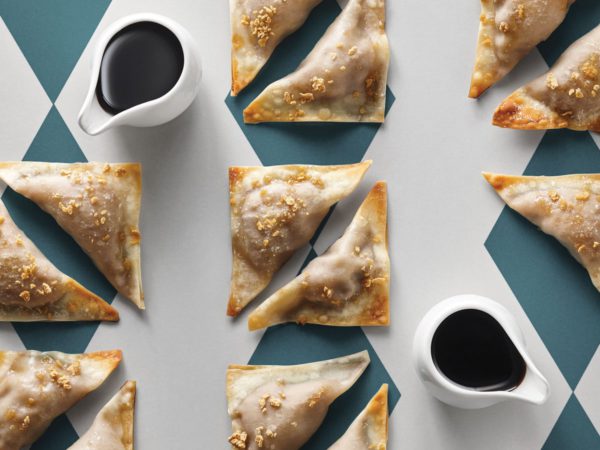 Ingredients
1/2 lb

lean ground pork

6

white mushrooms, chopped

1

green onion, chopped

2 tablespoons

maple sugar

1 teaspoon

fresh ginger, grated

1

clove of garlic, minced

1 tablespoon

soy sauce

1 teaspoon

grilled sesame oil

24

frozen won-ton wraps, thawed

2 tablespoons

vegetable oil

2 tablespoons

maple flakes
Salt and pepper
Extra soy sauce, for the dip
Maple syrup, for the dip (preferably very dark syrup for its strong flavour)
Method
Preheat the oven to 180 °C (350 °F).
Line a baking sheet with parchment paper and oil.
In a bowl, combine pork, mushrooms, green onion, maple sugar, ginger, garlic, soy sauce and sesame oil to make the stuffing. Add salt and pepper. Set aside.
On a work surface, spread six squares of dough at a time.
Spoon about 10 ml (2 teaspoons) of stuffing into the center of each square.
Brush around the squares with a little water and close in triangle or half-moon. Press the dough around the stuffing to remove any air bubbles. Repeat with the rest of the ingredients.
Place dumplings on a baking sheet, brush with vegetable oil and sprinkle with maple flakes.
Bake 25 minutes, flipping if necessary.
Meanwhile, mix equal amounts of soy sauce and maple syrup.
Serve dumplings with this dipping sauce.
* Uncooked raviolis can freeze for 3 months. If you do not defrost them, they can be baked at 180 ° C (350 ° F) for about 35 minutes.
The Quebec Maple Syrup Producers are not in any way responsible for the identification or presence of allergens in recipes or for the classification of any recipe as vegetarian or vegan.
Hundreds of Delicious Recipes
Maple is a special addition to any recipe, from appetizer to dessert. Find one that's perfect for you or your occasion!