Foie Gras and Maple Stuffed Turkey Legs
---
Recipes with Maple Syrup / Turkey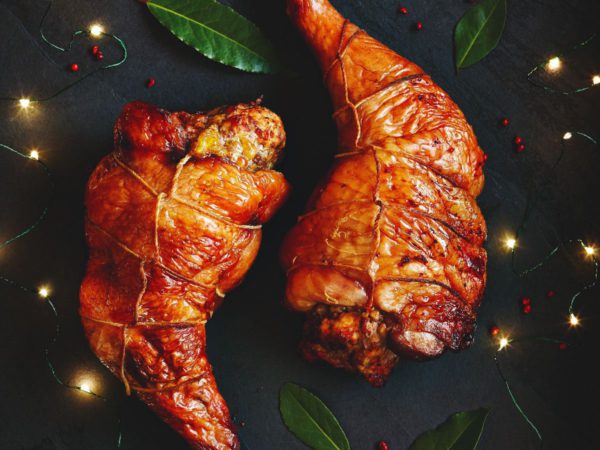 Ingredients
2

turkey legs, skin on, about 675 g (1 1/2 lbs) each, semi-deboned (drumsticks should be bone-in)

2 tablespoons

olive oil

3 cups

chicken broth, hot

1 cup

maple taffy

1/4 cup

butter

1/4 cup

all-purpose flour
Salt and freshly ground pepper
Stuffing
1 lb

ground turkey

1/2 lb

foie gras, cubed*

1 tablespoon

pink peppercorns

2 tablespoons

white wine

2 tablespoons

maple sugar

2 tablespoons

fresh thyme, chopped
Salt and freshly ground pepper
Method
Place rack in bottom of oven and preheat to 200 °C (400 °F).
Open tops of turkey thighs to form a pocket by cutting lengthwise, then making an incision across the first incision to create a cavity. Take care not to cut all the way from edge to edge. Season with salt and pepper. Set aside.
In a large bowl, mix all stuffing ingredients together. Stuff turkey thighs, seal and tie.
Transfer to a roasting pan and brush thighs with olive oil.
Bake in oven for 20 minutes.
Reduce oven temperature to 180 °C (350 °F).
Mix maple taffy into chicken broth, then use to brush turkey thighs. Continue baking for approximately 1 hour 10 minutes or until a thermometer inserted in centre reads 82 °C (180 °F). Baste every 20 minutes. Add broth as needed during cooking. Remove from oven, cover and let stand for about 15 minutes while preparing sauce.
Remove pan juices, remove fat floating on surface with a spoon, then strain through a sieve.
Return juices to the roasting pan or transfer to a saucepan.
Combine butter and flour to make a beurre manié. Add it to hot pan juices while whisking. Thicken sauce until desired consistency.
Untie and cut thighs before serving with sauce.
Butchers sometimes sell foie gras "trimmings", which are much cheaper than a lobe. So, ask your butcher for them!
The Quebec Maple Syrup Producers are not in any way responsible for the identification or presence of allergens in recipes or for the classification of any recipe as vegetarian or vegan.
Hundreds of Delicious Recipes
Maple is a special addition to any recipe, from appetizer to dessert. Find one that's perfect for you or your occasion!