Grilled Lettuce, Spicy Buffalo Tofu and Maple-Marinated Veggies
---
Recipes with Maple Syrup / Salads / Tofu and Legumes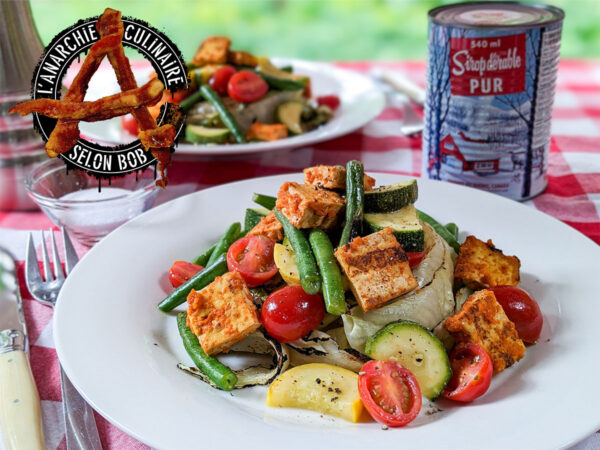 Ingredients
Maple-Marinated Veggies
About 20 green beans, stems removed and halved

1

1 zucchini, sliced into half-rounds

1 tbsp

olive or vegetable oil
Salt and pepper to taste
About 20 cherry tomatoes, halved

1 tbsp

maple syrup (preferably dark syrup for its robust flavour)

2 tsp

red wine vinegar

2 tsp

hot mustard
Buffalo Sauce
1

red Bell pepper, seeded and halved

2 tbsp

maple syrup (preferably dark syrup for its robust flavour)

2 tsp

red wine vinegar

1 tsp

smoked paprika

1 tsp

dry mustard

1/2 tsp

Cayenne pepper
Salt and pepper to taste
Tofu
1

block of extra-firm tofu – 454 g (1 lb), cut into 4 equal slices
Method
Maple-Marinated Veggies
Preheat barbecue to about 240° C (450° F) for direct grilling.
Place green beans and zucchini in the centre of a sheet of aluminum foil, pour over the oil, and season with salt and pepper.
Fold and seal into a package and cook on the grill for about 5 minutes.
Remove from grill, open, and empty into a bowl.
Add in the cherry tomatoes, maple syrup, vinegar, and mustard.
Toss gently and leave to marinate for 10 minutes.
Buffalo Sauce
Place pepper (skin side down) on the barbecue, close the lid, and grill 8 – 10 minutes.
Put into a bowl, cover with plastic wrap or a plate, and let cool for about 10 minutes (the moisture this generates will allow you to more easily remove the burnt bits of skin).
Peel the skin and place the pepper halves in the bowl.
Add the maple syrup, vinegar, paprika, mustard, cayenne pepper, and the salt and pepper.
Use a blender to purée until smooth. Set aside.
Tofu
Grill the tofu slices for about 2 minutes on each side.
Remove and cut into (approx.) 1.5 cm cubes. Set aside.
Transfer Buffalo sauce to a saucepan and add the tofu.
Simmer for about 3 minutes.
Salad and presentation
Cut lettuce into 4 large slices or wedges.
Grill them for 2 – 3 minutes on each side.
Place on plates and dress with the spicy Buffalo tofu and marinated veggies.
Season as desired and serve immediately.
MARINATION TIME: 10 minutes
The Quebec Maple Syrup Producers are not in any way responsible for the identification or presence of allergens in recipes or for the classification of any recipe as vegetarian or vegan.
Hundreds of Delicious Recipes
Maple is a special addition to any recipe, from appetizer to dessert. Find one that's perfect for you or your occasion!