Maple Spinach-Ham Salad
---
Main-Course Salads / Pork / Recipes with Maple Syrup / Recipes with Maple Vinegar / Salads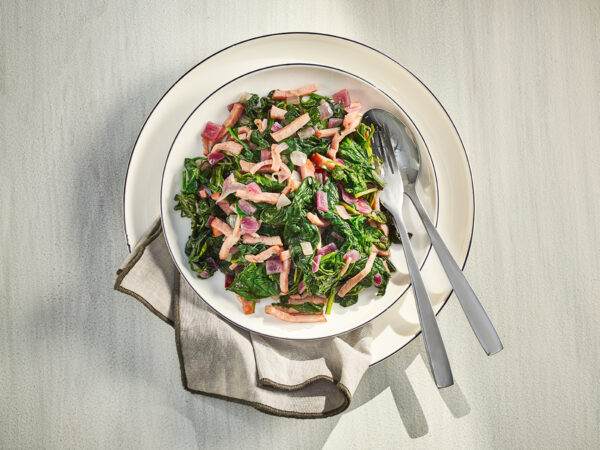 Ingredients
1

large package of spinach, washed well

1/2 lb

ham

1

large red onion, cut into medium cubes

3 tbsp

butter

4 tbsp

maple syrup (preferably dark syrup for its robust flavour)

1 tsp

Svanetian salt (or garlic salt)

1/2 tsp

nutmeg, freshly grated
Pepper to taste

2 tbsp

maple vinegar (or cider or wine vinegar)
Method
Bring salted water to the boil in a saucepan and cook the spinach for 2 minutes. Drain, then rinse with cold water. Squeeze out as much water with your hands as you can. Chop coarsely and set aside.
Cut the fat from the ham and cube finely. Cut the ham into julienne strips. Put a skillet on medium-low heat and render the fat, then soften the onion in it. Increase heat to medium-high and add the butter, maple syrup, the Svanetian salt, nutmeg, pepper, and the julienned ham. Sauté a few minutes and lightly caramelize.
Add the chopped spinach and stir until heated through. Stir in the vinegar and adjust the seasoning as needed. Serve immediately.
The Quebec Maple Syrup Producers are not in any way responsible for the identification or presence of allergens in recipes or for the classification of any recipe as vegetarian or vegan.
Hundreds of Delicious Recipes
Maple is a special addition to any recipe, from appetizer to dessert. Find one that's perfect for you or your occasion!