Maple and Nut Stuffed Cabbage
---
Vegetables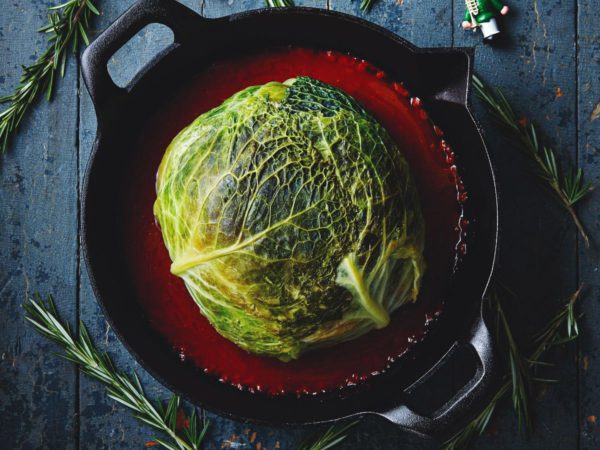 Ingredients
1

large savoy cabbage

1

bag of 400 g (14 oz) cooked chestnuts

1

medium white onion, chopped

4

rashers of bacon, coarsely chopped

1/4 cup

maple syrup

2

garlic cloves, chopped

1/2 cup

hazelnuts, toasted

1

carrot, peeled and grated

1

Pinch of nutmeg

1

egg

1 cup

white rice or quinoa, cooked

2 cups

homemade (or store-bought) tomato sauce

1 cup

maple water

1 tablespoon

olive oil
Fresh rosemary (for garnish)
Salt and freshly ground pepper, to taste
Method
Place rack in middle of oven and preheat to 200 °C (400 °F).
Cut out bottom of cabbage at base of the leaves and remove leaves. In a large pot of boiling salted water, blanch leaves 5 minutes. Drain and let cool in a colander.
In bowl of a food processor, add chestnuts, onion, bacon, maple syrup, garlic, hazelnuts, carrot, nutmeg, egg, salt and pepper. Pulse to obtain a granular texture.Transfer to a bowl, add rice or quinoa and mix with a spoon. Set aside.
Line bottom of a mixing bowl with cheesecloth, ensuring extra hangs down over sides.
Place largest and greenest leaves at bottom of bowl, stems down, as if recreating the cabbage.
Spread a thin layer of stuffing over leaves and cover with next largest cabbage leaves. Repeat until all the filling has been used. (If there are cabbage leaves left, keep them for another dish.) Pull up edges of cheesecloth to form a cabbage, tighten and tie.
Lightly oil bottom of a baking dish. Pour tomato sauce and maple water into dish. Place cabbage in middle, knot underneath, and spoon a little sauce on top.
Reduce oven to 180 °C (350 °F) and bake stuffed cabbage for 1 hour 30 minutes, basting occasionally.
Remove from oven and snip through cheesecloth to remove it.
Garnish with fresh rosemary and serve whole for a spectacular presentation.
The Quebec Maple Syrup Producers are not in any way responsible for the identification or presence of allergens in recipes or for the classification of any recipe as vegetarian or vegan.
Add something special to your summer menu this year.
Maple is a special addition to any recipe, from appetizer to dessert. Find one that's perfect for you or your occasion!