Maple Beef "Gravlax"
---
Starters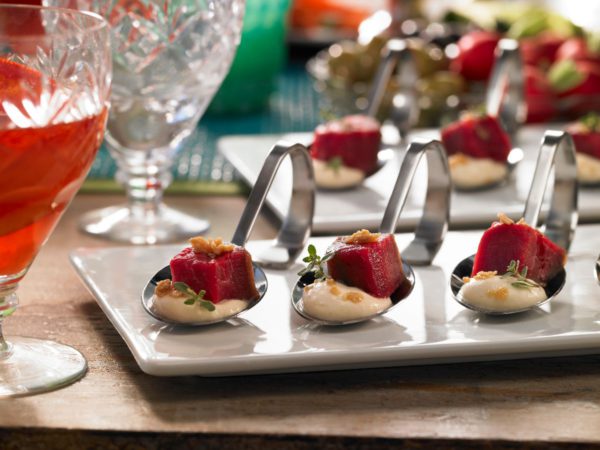 Ingredients
Marinade
1/2 cup

coarse salt

1/2 cup

maple sugar

1/2 cup

canola oil

1 teaspoon

pepper flakes

1 teaspoon

fresh ginger, chopped

1 teaspoon

ground star anise

1

A pinch of ground cloves

1 lb

trimmed beef fillet (ask your butcher)
Cream of horseradish with maple
2 tablespoons

grated horseradish
Juice and zest of a lemon

1 tablespoons

Dijon mustard

3 tablespoons

maple syrup
Tabasco, to taste

1 cup

35% cream, whipped

1/4 cup

maple flakes
Fresh fines herbes (chives, mint, parsley, oregano), to taste
Method
In a bowl, mix all the marinade ingredients together. Pour into a large freezer bag and add the beef fillet. Refrigerate and leave to marinate for 36 hours, turning several times.
Wipe off the marinated beef. Cut into cubes, approximately 1.25 cm (1/2 in) thick. Set aside.
In a large bowl, combine all the ingredients for the cream of horseradish.
Before serving, sprinkle the maple flakes and fines herbes over the beef. Serve with the cream of horseradish.
The Quebec Maple Syrup Producers are not in any way responsible for the identification or presence of allergens in recipes or for the classification of any recipe as vegetarian or vegan.
Add something special to your summer menu this year.
Maple is a special addition to any recipe, from appetizer to dessert. Find one that's perfect for you or your occasion!