Maple Butter Stollen
---
Bread / Cakes / Recipes with Maple Butter / Recipes with Maple Syrup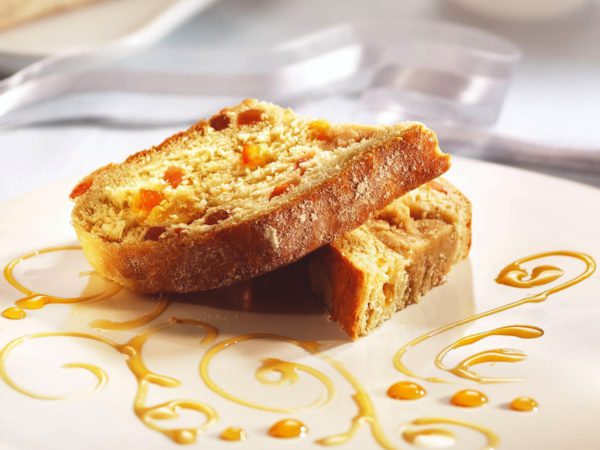 Ingredients
1

packet of dry yeast

1 tablespoon

maple sugar

1/2 cup

warm water
Flour, as needed

1/4 cup

Golden raisins

3/4 cup

mixed candied fruit

3 1/4 cups

all-purpose flour

4

eggs, beaten

1/3 cup

maple sugar

1/2 teaspoon

salt

1 teaspoon

vanilla extract

1/2 cup

maple butter

1/2 cup

ground almonds

1/2 cup

butter, softened

2 tablespoons

orange zest

2 tablespoons

lemon zest

3 tablespoons

maple sugar

3 tablespoons

powder sugar
Method
In a glass, dissolve yeast and maple sugar in a warm water. Leave to foam for 5 minutes.
In a bowl, dust raisins and dried fruit in a little flour. Set aside.
In another bowl, mix flour, eggs, maple sugar, salt, dissolved yeast and vanilla extract. Beat for 5 minutes.
Cover the dough with a clean kitchen cloth and let rise for about 1 hour (or until the dough has doubled in volume).
In another bowl, combine maple butter and powdered almonds. Set aside.
Add the softened butter, floured raisins and fruit, and citrus zests into the risen dough; knead to mix well.
Transfer the dough onto a lightly-floured surface and roll out into a rectangle.
Spread the maple butter and almond mixture in the middle of the dough, leaving the edges free of mixture. Roll up the dough along the long edge.
Place the roll on a cookie sheet, cover and let rise for about 1 hour (or until the roll has doubled in volume).
Preheat the oven to 180 ˚C (350 ˚F).
Uncover the roll and bake for 20 to 25 minutes.
In a bowl, mix maple sugar and powdered sugar and sprinkle on top of baked roll.
The Quebec Maple Syrup Producers are not in any way responsible for the identification or presence of allergens in recipes or for the classification of any recipe as vegetarian or vegan.
Hundreds of Delicious Recipes
Maple is a special addition to any recipe, from appetizer to dessert. Find one that's perfect for you or your occasion!