Maple-Caraway Pickled Cauliflower Florets
---
Recipes with Maple Syrup / Recipes with Maple Vinegar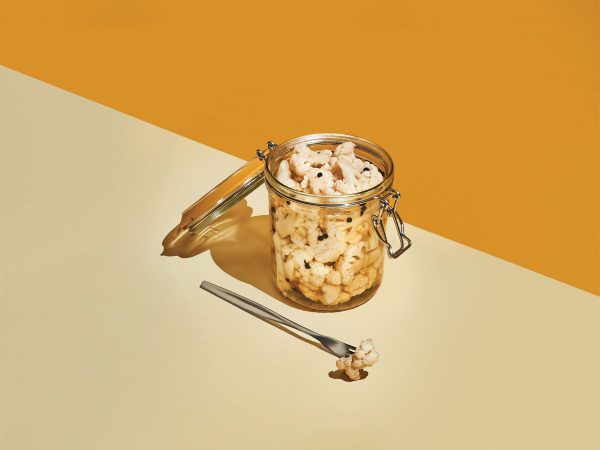 Ingredients
2 cups

white vinegar

1/2 cup

maple vinegar

2 cups

water

1/4 cup

maple syrup (preferably golden syrup for its delicate flavour)

4 tsp

caraway seeds

2 tsp

pickling salt

1 tsp

peppercorns

2 2/3 lb

cauliflower (white, orange, or purple) florets
Method
Perform the steps in the "Method for Preparing Jars and Lids," found here (= lien).
Make the pickling liquid in a very large pot by adding the vinegars, water, maple syrup, caraway seeds, salt, and pepper, and bringing it to a boil.
Add the cauliflower, bring back to the boil, and cook 4 minutes.
Remove pot from the heat. Take the florets out with a slotted spoon or silicone tongs and distribute them among the still-hot, sterilized jars to 2 cm (7/8 in) of their tops.
Pour in the hot pickling liquid to 1 cm (3/8 in) of the tops, then add the aromatics (caraway and pepper) from the bottom of the pot. Use a non-metallic utensil to release air bubbles.
Follow Steps 1 – 6 of the "Canning Method," found here (= lien).
The Quebec Maple Syrup Producers are not in any way responsible for the identification or presence of allergens in recipes or for the classification of any recipe as vegetarian or vegan.
Hundreds of Delicious Recipes
Maple is a special addition to any recipe, from appetizer to dessert. Find one that's perfect for you or your occasion!