The Maple Charlotte
---
Cakes / Recipes with Maple Butter / Recipes with Maple Spirits / Recipes with Maple Syrup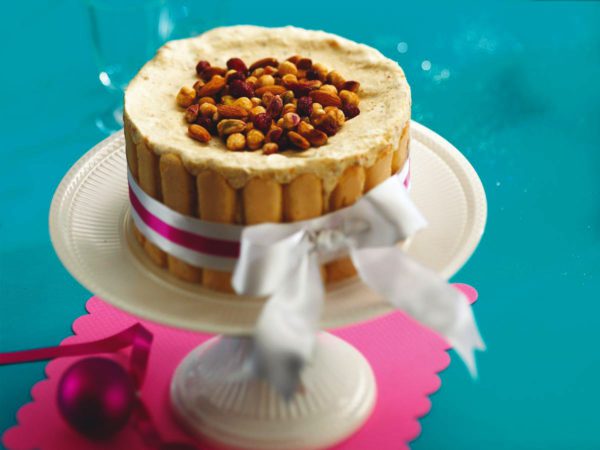 Ingredients
26

ladyfinger cookies

2 tablespoons

maple butter

1/2 cup

Coureur des Bois maple cream

2 cups

maple syrup (preferably dark syrup for its robust flavour)

2

egg whites

2 cups

heavy cream (35%)

1/2 cup

pistachios, toasted and chopped

1 cup

almonds, toasted and chopped

1/2 cup

hazelnuts, toasted and chopped

1/2 cup

dried cranberries
Method
Line a 20-cm (8-in) springform pan with parchment paper, leaving 5 cm (2 in) of overhang.
Affix the ladyfingers to the walls of the pan with maple butter. Break up the remaining cookies and pour into the center of the pan.
Refrigerate for 30 minutes so that the maple butter "glues" the ladyfingers to the pan.
Using a pastry brush, moisten the ladyfingers with maple cream. Set aside.
In a heavy-bottomed saucepan, heat the maple syrup to a boil without stirring until a candy thermometer registers 115 °C (240 °F). Put a wooden spoon in the saucepan to prevent the caramel from bubbling up and overflowing.
In the bowl of an electric mixer, beat the egg whites until soft peaks form. Reduce speed and pour in the boiling maple syrup in a thin stream. Beat for about 10 minutes. Set aside.
In another bowl, whip the heavy cream until soft peaks form, then add to the maple-egg white mixture. Fold in the nuts and cranberries, reserving some for garnish.
Pour the mixture into the ladyfinger-lined pan and freeze for 6 hours.
Unmould and garnish with reserved nuts and cranberries. Finish with a ribbon tied around the charlotte.
The Quebec Maple Syrup Producers are not in any way responsible for the identification or presence of allergens in recipes or for the classification of any recipe as vegetarian or vegan.
Hundreds of Delicious Recipes
Maple is a special addition to any recipe, from appetizer to dessert. Find one that's perfect for you or your occasion!