Maple-Cheddar Squash Bread
---
Bread / Recipes with Maple Syrup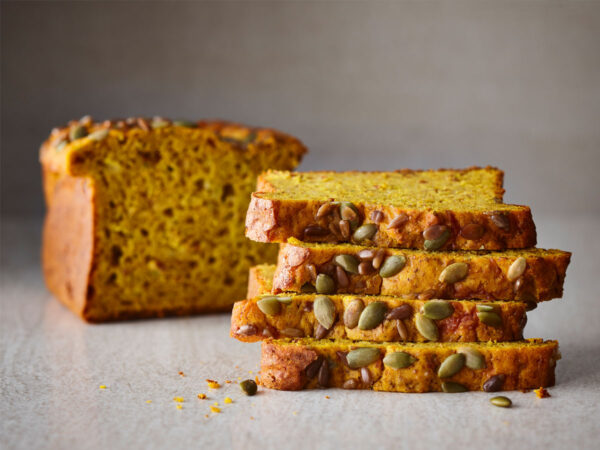 Ingredients
Butter, for the loaf pan

4

slices prosciutto

1 1/2 cup

whole wheat flour

2 tsp

baking powder

3

eggs

2 tbsp

maple syrup (preferably amber syrup for its rich flavour)

1/4 cup

olive oil

3/4 cup

butternut squash or pumpkin purée

2 tsp

turmeric

1/2 cup

milk

1 cup

aged cheddar cheese, grated

1

green onion, chopped

2 tbsp

sunflower (or pumpkin) seeds
Pepper, to taste
Method
Position the rack low in the oven. Preheat to 350° F (180° C).
Butter a 21 x 11 cm (8.5 x 4.5 in) loaf pan or line it with parchment paper.
Cover a plate with paper towels. Lay the slices of prosciutto on it, side by side. Cover with paper towel. Cook 1 minute in the microwave. Check the texture of the prosciutto: it should be crispy. If not, put it back in the microwave for 30 second intervals until it's the right texture. Let it cool, chop it up, and set aside.
Blend the flour and baking powder in a small bowl and set aside.
In a large bowl, turn an electric mixer to high speed and beat the eggs and maple syrup for about 5 minutes or until the mixture has tripled in volume.
Reduce to low speed. Still beating, add the puréed squash and turmeric. Stir in the flour mixture and milk, alternating between the two.
Add the chopped prosciutto, the cheddar, and green onion, mixing with a spatula.
Pour batter into the loaf pan and sprinkle with the seeds. Cover with aluminum foil.
Bake for 30 minutes, then remove the aluminum foil, and reduce oven to 325° F (160° C). Bake another 45 minutes or until the tip of a knife inserted in the centre of the loaf comes out clean.
Let stand for 10 minutes and remove from pan. Slice, as desired.
The Quebec Maple Syrup Producers are not in any way responsible for the identification or presence of allergens in recipes or for the classification of any recipe as vegetarian or vegan.
Hundreds of Delicious Recipes
Maple is a special addition to any recipe, from appetizer to dessert. Find one that's perfect for you or your occasion!