Maple-Lacquered Brome Lake Duck Breast with a Vegetable Gratin
---
Duck / Recipes with Maple Syrup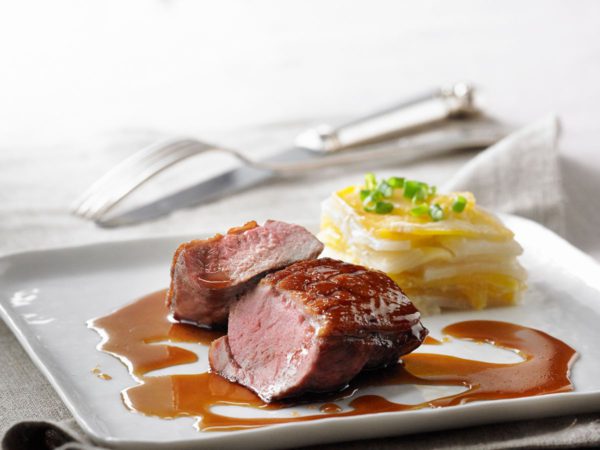 Ingredients
2 to 4

Brome Lake duck breasts

1/2 cup

maple syrup (preferably Very Dark for its strong taste)

2 tablespoons

hoisin sauce

1 tablespoon

apple vinegar

1/4 cup

water

1

large celeriac, peeled

1

small butternut squash, peeled

1 1/2 cup

35% whipping cream

1/2 cup

milk

1 tablespoon

maple syrup
Salt and freshly ground pepper
Method
Duck breasts
Season duck breasts on all sides with salt and pepper. Using a small knife, score fat on duck breasts in a grid pattern.
In a hot frying pan over high heat, sear breasts skin side down until brown. Turn over and continue cooking flesh side down for 3 to 4.
Add 125 ml (1/2 cup) maple syrup and the hoisin sauce.
Deglaze with apple vinegar and water to dilute the sauce. Remove breasts while still rare. Cut breasts in two lengthways and keep maple sauce warm.
Root vegetables
Thinly slice celeriac and butternut squash.
In a gratin dish, create a layer of celeriac slices, then cover with slices of butternut squash. Repeat with alternating layers of each vegetable.
In a bowl, add cream, milk and 15 ml (1 tablespoon) maple syrup and season with salt and pepper. Mix well.
Pour mixture over gratin and bake in the oven for 40 minutes at 175 °C (350 °F).
Serve crisp and tender vegetable gratin in the centre of the table, arrange slices of maple-lacquered Brome Lake duck breast on a serving dish and dress with reserved maple sauce.
The Quebec Maple Syrup Producers are not in any way responsible for the identification or presence of allergens in recipes or for the classification of any recipe as vegetarian or vegan.
Hundreds of Delicious Recipes
Maple is a special addition to any recipe, from appetizer to dessert. Find one that's perfect for you or your occasion!