Maple Rack of Pork Stuffed with Sausage
---
Pork / Recipes with Maple Spirits / Recipes with Maple Syrup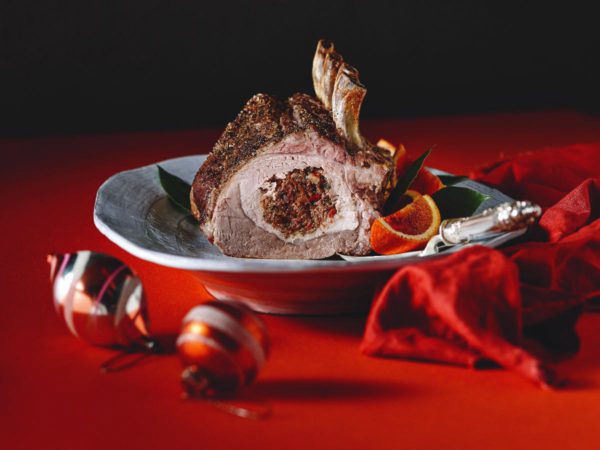 Ingredients
2 tablespoons

butter

3

Italian sausages, skins removed

1/2 cup

pine nuts

1

leek, chopped

1

red bell pepper, diced

2

garlic cloves, finely chopped

1 teaspoon

fresh thyme, chopped

1/2 teaspoon

ground cinnamon

1

A pinch of ground allspice

1/3 cup

fresh parsley, chopped
Zest of 1 lemon

1/2 cup

breadcrumbs

1

rack of pork with 6 ribs, about 1.6 kg (3 1/2 lb)

1/2 cup

maple syrup (preferably amber syrup for its rich flavour)

2 oz

Gélinotte maple liquor

16 oz

white wine

1/4 cup

all-purpose flour

1 cup

35% cream
Salt and freshly ground pepper, to taste
Method
In a heavy-bottomed saucepan, heat butter over medium heat. Add sausage meat and fry for 5 minutes, stirring constantly. Remove fat.
Add pine nuts, leek, bell pepper, garlic, thyme, cinnamon, allspice and salt.
Continue cooking for 5 minutes, stirring occasionally, until leek and bell pepper are tender. Reduce heat to low and cook until liquid has boiled off.
Add parsley, zest and breadcrumbs, then mix well with a fork or hand blender. Leave to cool.
Place rack of pork on a cutting board with rib bones upwards. Using a long sharp knife, cut an x-shape into the meat at one end to create a cavity. Do the same at the other end making a cavity from one end to the other.
Use fingers to widen the cavity to accommodate all the stuffing, but no more. Stuff the rack, then season with salt and pepper. (The rack of pork can be prepared the day before up to this point. Cover with plastic wrap and refrigerate until the next day.)
Preheat oven to 160 °C (325 °F).
Place rack of pork in a roasting pan. Combine maple syrup, Gélinotte and white wine, then brush over the rack.
Bake for about 2 hours, basting regularly, until a thermometer inserted into the thickest part reads 70 °C (150 °F).
Place rack of pork on a chopping board, cover loosely with foil and let stand for 5 minutes.
Meanwhile, remove fat floating on surface of pan juices with a spoon. Add flour and whisk in well, scraping bottom to detach all the juices.
Transfer to a saucepan, add cream and reduce for 5 minutes over medium-high heat.
Pour into a gravy boat. Cut rack between ribs. Serve each chop with a little sauce.
The Quebec Maple Syrup Producers are not in any way responsible for the identification or presence of allergens in recipes or for the classification of any recipe as vegetarian or vegan.
Hundreds of Delicious Recipes
Maple is a special addition to any recipe, from appetizer to dessert. Find one that's perfect for you or your occasion!