Maple Syrup-Soy Sauce Lacquered Trout Fillets with a Crunchy Maple Vinegar-Mustard Salad
---
Fish and Seafood / Main-Course Salads / Recipes with Maple Syrup / Recipes with Maple Vinegar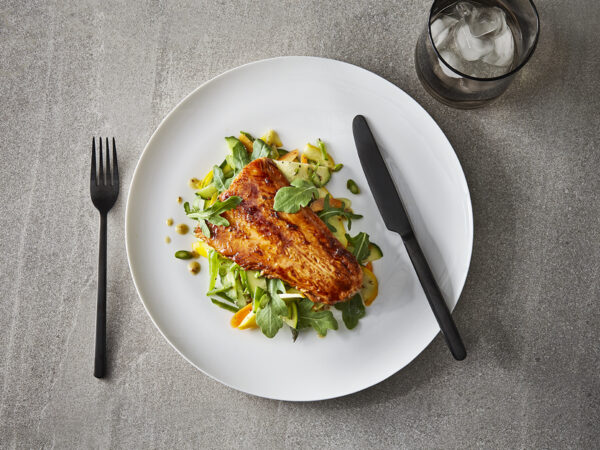 Ingredients
Laqué au sirop d'érable
1 cup

sake

1/2 cup

maple syrup (preferably very dark syrup for its strong flavour)

1 cup

soy sauce
Corn starch, as needed
Water, as needed
Salade de légumes croquants
1

zucchini, halved lengthwise

1

carrot, halved lengthwise

8

asparagus

1

cucumber, halved lengthwise

4

green onions

10

snow peas

2 cups

arugula
Vinaigrette
4 tbsp

maple vinegar

1 tbsp

Dijon mustard

1 tbsp

Moutarde de Meaux (or an old-style, grainy mustard)

1/2 cup

canola oil
Filets de truite
4

trout fillets, skinless
Method
Maple Syrup Lacquer
Pour the sake and maple syrup into a saucepan, bring to a boil, then flambé. Add the soy sauce and boil 5 minutes. Dissolve the corn starch in a little water. Add to lacquer, thickening it slightly as you bring it back to a boil. Turn off heat, and set lacquer aside.
Crunchy Vegetable Salad
Cut the zucchini, carrot, asparagus, cucumber, green onions, and snow peas on the diagonal into pieces 2 mm (about 1/8 in) thick. Prepare the vinaigrette in a bowl by whisking the maple vinegar, Dijon mustard, Meaux (or old-style) mustard, and oil. Drizzle lightly over the vegetables and allow to marinate for about 20 minutes before adding the arugula. Adjust the seasoning, if needed. Set aside.
Trout Fillets
In a skillet, sear the trout fillets (bone side) over high heat until nicely coloured. Pour a little lacquer on each side and flip. Turn off heat.
Presentation
Arrange the salad in each plate, and place fillets on top.
The Quebec Maple Syrup Producers are not in any way responsible for the identification or presence of allergens in recipes or for the classification of any recipe as vegetarian or vegan.
Hundreds of Delicious Recipes
Maple is a special addition to any recipe, from appetizer to dessert. Find one that's perfect for you or your occasion!