Meat Pie with Maple Syrup
---
Pork / Recipes with Maple Syrup / Veal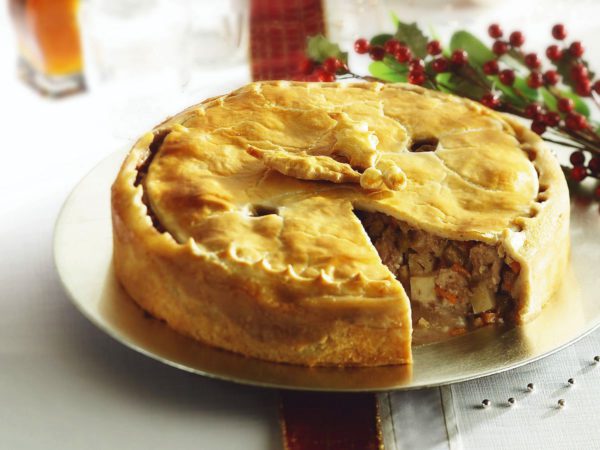 Ingredients
3/4 lb

small cubes of veal

3/4 lb

small cubes of pork

1

onion, chopped

2

garlic cloves, crushed

1 cup

diced carrots

1 cup

chopped celery

2

bay leaves

1 teaspoon

dry thyme

1/4 cup

red wine

1 tablespoon

butter

1 1/2 tablespoon

flour

1 cup

beef stock

1/3 cup

maple syrup (preferably golden syrup for its delicate flavour)

2

pieces of rolled out pastry dough

1 1/2 cup

of peeled and cubed potatoes
Salt and freshly ground pepper to taste

1

beaten egg
Method
Combine the first 9 ingredients.
Let rest for at least 4 hours in the refrigerator. Remove the bay leaves.
In a casserole, melt butter and add flour.
Add stock and maple syrup while stiring with a whisk. Bring to a boil and let simmer until thick. Cool.
Preheat the oven to 175 °C (350 °F).
Cover the bottom and sides of a 23-cm (10-in) springform pan with one of the pastry dough.
Spread half of the meat mixture over it. Cover with potatoes, season and add the rest of the meat mixture. Pour the sauce, cover with the second piece of dough, flute and prick all over.
Brush the top with a beaten egg and bake in the center of the oven for 1 1/2 hours.
Let rest for 20 minutes before removing from pan. Serve with your favourite green vegetables or salad.
Energy: 341 cal Carbohydrates: 24 g Fats: 11 g
Excellent source of protein
The Quebec Maple Syrup Producers are not in any way responsible for the identification or presence of allergens in recipes or for the classification of any recipe as vegetarian or vegan.
Hundreds of Delicious Recipes
Maple is a special addition to any recipe, from appetizer to dessert. Find one that's perfect for you or your occasion!