Organic Pork Pies with Maple and Coriander
---
Pork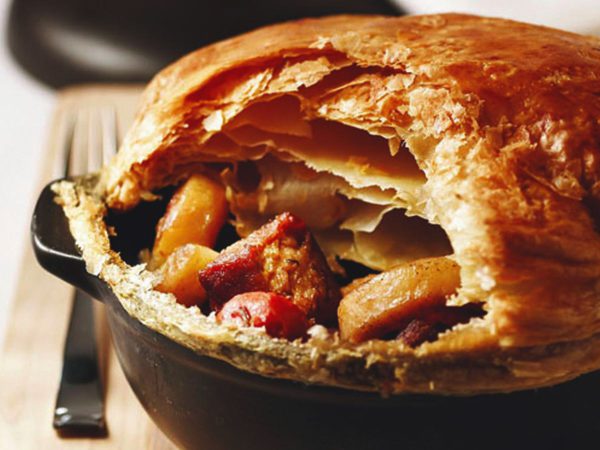 Ingredients
2.2 lb

organic pork shoulder, cubed (Viandes Biologiques de St-Urbain)

12

shallots

2

medium carrots

3

large Yukon Gold (yellow) potatoes

12

radishes

12

button mushrooms

4 cups

litre veal stock

2 tablespoons

fresh coriander

3/4 cup

maple syrup

2 tablespoons

sherry vinegar

4

sheets of 6-inch puff pastry (500 g puff pastry)

2oz

butter

1

egg (for brushing)
Salt and pepper to taste
Aromatics
2

cloves garlic

1/2

white onion

1

celery stalk

1/2

carrot

4

oven-safe pie dishes, about 6 inches in diameter
Method
Cut pork shoulder into 1½-inch cubes.
Sauté in the oil and half the butter.
Transfer to small pot with the pre-diced aromatics (garlic, white onion, celery, carrot).
Add 150 ml of the maple syrup. Bring to boil, and reduce until thick.
Deglaze with sherry vinegar, and add coriander and veal stock. Return to boil, then reduce heat to low, cover, and cook for 1 hour.
Place the shallots in aluminium foil along with the remaining half of the butter and 50 ml maple syrup.
Close the foil and bake in 330° C oven for 30 minutes.
Remove shallots from oven, and peel.
Peel carrots and potatoes, and cut them into ½ inch thick cylindrical shapes.
Glaze the carrots (cook in saucepan with a little water, 1 tbsp. maple syrup, and a knob of butter) until still slightly firm. Do the same with the radishes.
Remove stems from mushrooms, and sauté the caps only. Set aside with the vegetables.
Sauté the potatoes in a little canola oil, then place them in a 350° C oven for about 7 minutes.
Be sure the pork is cooked and divide it into the pie dishes. Strain the sauce, taste, and adjust seasoning as needed.
Pour sauce into the dishes and add a few coriander leaves.
Cut the puff pastry into 4 circles of about 7 inches around.
Place pastry rounds on the dishes and pinch the edges.
Beat the egg with a fork, and brush pastries with the egg wash.
Bake at 350° C for 20 – 25 minutes.
Remove from oven and enjoy in good company!
The Quebec Maple Syrup Producers are not in any way responsible for the identification or presence of allergens in recipes or for the classification of any recipe as vegetarian or vegan.
Hundreds of Delicious Recipes
Maple is a special addition to any recipe, from appetizer to dessert. Find one that's perfect for you or your occasion!