Pork Stew with Root Vegetables, Maple Sauce and Za'atar
---
Pork / Recipes with Maple Syrup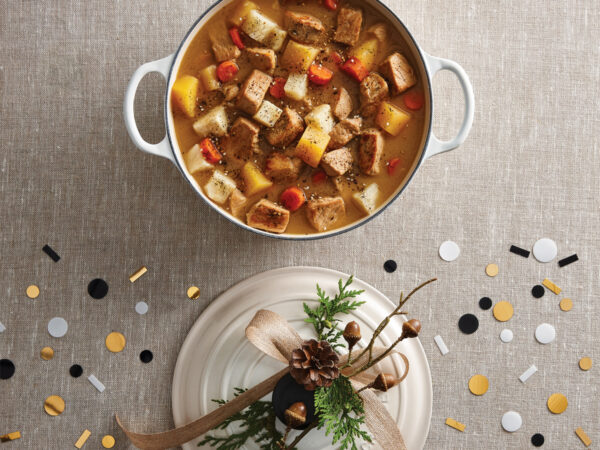 Ingredients
2 tbsp

olive oil

2 1/2 lb

Québec pork, cubed

1 cup

red, brown, or amber ale

1

onion, chopped

1/2

medium rutabaga, cut into large chunks

4

carrots, sliced

1/2

medium celeriac, cut into large chunks

1/3 cup

maple syrup (preferably amber syrup for its rich flavour)

1 cup

chicken broth

2 tbsp

cornstarch or unbleached all-purpose flour (optional)

2 à 3 tsp

za'atar*
Salt and freshly-ground pepper
Method
In a Dutch oven, heat half the oil and brown half the pork. Set aside on a platter and repeat with the remaining oil and pork.
With all the meat back in the Dutch oven, deglaze with the beer and reduce liquid, 2 minutes.
Add vegetables, maple syrup, and broth. Season generously with salt and pepper. Bring to a boil and let simmer, covered, for 1 hour or until the meat is tender.
If desired, thicken the broth with starch or flour diluted in cold water.
Add the za'atar, adjust the seasoning, and serve.
* Za'atar is a Middle Eastern blend of spices usually including thyme, sesame, sumac, fennel, cumin, oregano, and salt.
The Quebec Maple Syrup Producers are not in any way responsible for the identification or presence of allergens in recipes or for the classification of any recipe as vegetarian or vegan.
Hundreds of Delicious Recipes
Maple is a special addition to any recipe, from appetizer to dessert. Find one that's perfect for you or your occasion!