Sortilege Panforte With Maple Flakes
---
Recipes with Maple Flakes / Recipes with Maple Spirits / Recipes with Maple Syrup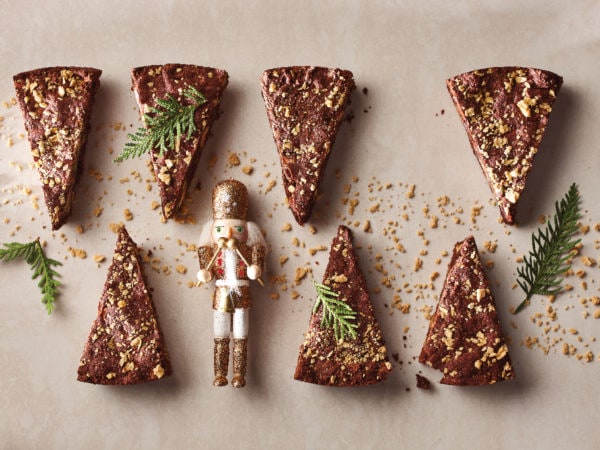 Ingredients
3 1/2 oz

70% dark chocolate, chopped coarsely

1/2 cup

maple syrup (preferably very dark syrup for its strong flavour)

1/4 cup

Sortilège maple cream (or other maple cream liqueur)
Zest of one lemon, finely grated

1 cup

mixed nuts (pecans, almonds, hazelnuts, pistachios), toasted and chopped coarsely

2 cups

almond powder

2 tbsp

cocoa powder

1/8 tsp

ground nutmeg

1/8 tsp

ground cinnamon

1/2 cup

maple flakes
Method
Preheat oven to 160°C (325°F).
Line the bottom of a 20 cm (8 in) springform pan with parchment paper. Set aside.
Melt the chocolate in a double boiler. Reserve.
In a saucepan, bring the maple syrup, maple cream, and lemon zest to a boil, and allow to boil for 1 minute. Keep warm.
In a large bowl, combine the nuts, almond powder, cocoa powder, and spices. Pour in the hot syrup and mix until smooth. Incorporate the melted chocolate. Pour this dough into the pan and smooth with a spatula. Sprinkle with maple flakes.
Bake in the oven for 35 minutes or until the centre is slightly firm and the sides are slightly caramelized. Let the panforte cool completely. Slide a thin blade between the pan and the cake to unmould.
The Quebec Maple Syrup Producers are not in any way responsible for the identification or presence of allergens in recipes or for the classification of any recipe as vegetarian or vegan.
Hundreds of Delicious Recipes
Maple is a special addition to any recipe, from appetizer to dessert. Find one that's perfect for you or your occasion!