Maple-Pear Glazed Roasted Turkey
---
Recipes with Maple Syrup / Turkey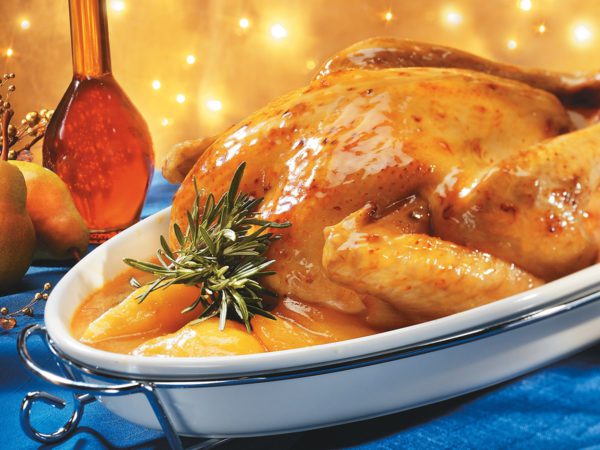 Ingredients
1

An approx. 3.5 kg (7 3/4 lbs) whole regular or young turkey

1

can of pears, in natural juice, (pears should be drained and the juice set aside)

1

shallot, minced

1

clove of garlic, minced

1 tablespoon

of butter

3/4 cup

of dry white wine

1 cup

of chicken bouillon

1/2 cup

of maple syrup (preferably amber syrup for its rich flavour)

2 teaspoons

of any fresh herb (Rosemary, Savoury, Thyme, Sage, etc.), chopped, or 3 ml (1/2 teaspoon) of any dry herb
Salt and freshly ground pepper to taste

1 1/2 tablespoon

of flour
Method
Preheat the oven to 200 °C (400 °F).
Place the turkey, breast up, in a roasting pan. Season the cavity and fill with pears.
Spread any remaining pears on the bottom of the roasting pan, around the turkey. Tie the two legs using a thread so that the turkey keeps its shape.
Roast uncovered in the middle of oven rack for at least 15 minutes.
Meanwhile, sauté the shallot and garlic in butter in a casserole.
Deglaze with wine and simmer until reduced to a third of original volume. Add the pear juice, bouillon, maple syrup and herb. Season well. Bring to a boil and pour over the turkey.
Reduce the oven temperature to 160 ºC (325 ºF).
Cover and continue to roast for about 2 hours and 20 minutes, or for 40 minutes for each 1 kg (2.2 lbs) of turkey, or until the meat comes off easily away from the bones. Baste with the pear juice mixture regularly. Uncover for the last 20 to 30 minutes to give it a nice golden colour.
Let the turkey rest for 15 to 20 minutes before carving. Meanwhile, pour all of the roasting juices into a small casserole.
Bring to a boil. Mix flour with a little bit of water and add to the casserole using a beater. Let the mixture simmer until it thickens.
Serve turkey with the pears and gravy.
The Quebec Maple Syrup Producers are not in any way responsible for the identification or presence of allergens in recipes or for the classification of any recipe as vegetarian or vegan.
Hundreds of Delicious Recipes
Maple is a special addition to any recipe, from appetizer to dessert. Find one that's perfect for you or your occasion!