Worker's Maple Pudding
---
Cakes / Recipes with Maple Sugar / Recipes with Maple Syrup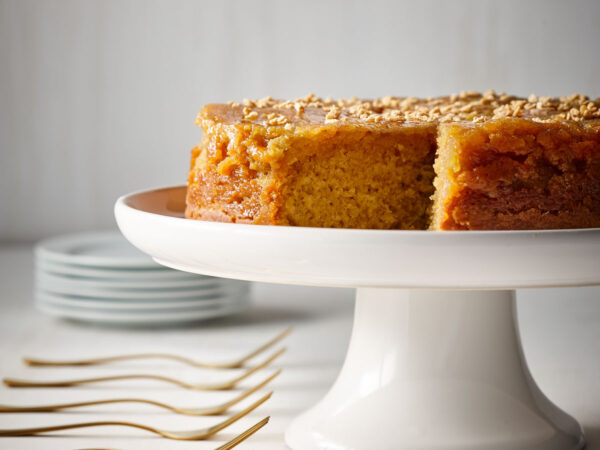 Ingredients
Maple Caramel
1/2 cup

maple syrup (preferably amber syrup for its rich flavour)

1/2 cup

35% cream

1/2 cup

unsalted butter

2/3 cup

maple sugar

3

egg yolks

1

large egg

1/4 tsp

salt
Cake Batter
1⅓ cup

unsalted butter

1⅓ cup

maple sugar

6

eggs

2¼ cups

pastry flour

2 tsp

baking powder

1/2 tsp

salt

3½ tbsp

milk
Method
Maple Caramel
In a medium saucepan, bring the maple syrup, cream, and butter to a boil. Add the maple sugar and stir until it's dissolved.
In a bowl, mix the egg yolks, whole egg, and salt together well. Add this mixture to the saucepan and, whisking, bring once again to a boil.
Strain through a sieve or cheesecloth and set aside in the fridge.
Cake Batter
Preheat oven to 190° C (375° F) with the rack placed in the middle.
Butter and flour a 23-cm (9-in) cake pan.
In a bowl, cream the butter with a whisk, add the maple sugar, and continue whisking. Add the eggs and mix them in well.
Sift together the flour, baking soda, and salt. Add to the egg mixture, alternating with the milk. Mix to a smooth, homogeneous batter, without over-mixing.
Pour the maple caramel into the pan and cover with the dough. Bake for 55 minutes or until golden brown.
Remove from oven and allow to cool before inverting and serving.
*The origins of this recipe date back to the Great Depression when Québec factory workers made a dessert (pouding chômeur – Unemployed Man's Pudding) from the most basic ingredients. It survives to this day in family meals and at sugar shacks in the spring.
The Quebec Maple Syrup Producers are not in any way responsible for the identification or presence of allergens in recipes or for the classification of any recipe as vegetarian or vegan.
Hundreds of Delicious Recipes
Maple is a special addition to any recipe, from appetizer to dessert. Find one that's perfect for you or your occasion!