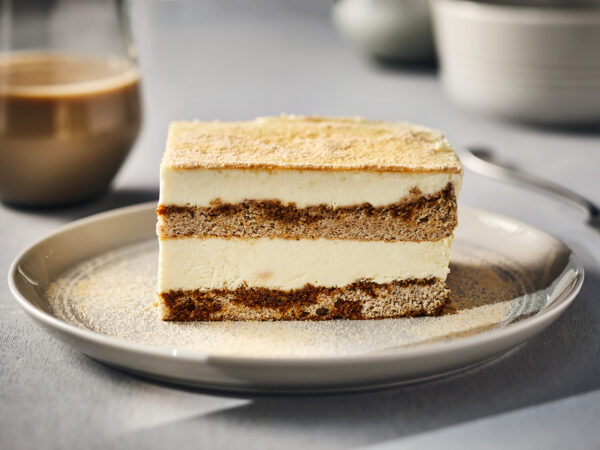 Ingredients
MAPLE CREAM
2 tsp

powdered gelatin

6 tbsp

cold water

3/4 cup + 2 tbsp

maple syrup (preferably amber syrup for its rich flavour), reduced to 111° C

1 1/3 cup

35% whipping cream

5

egg yolks
ANGEL CAKE
5

egg whites

1

pinch of salt

1/3 cup + 1 tbsp

maple sugar

1/3 cup

flour

1/4 cup

buckwheat flour

1/4 cup

maple sugar and 30 g (1/4 cup) cornstarch, pre-mixed in a spice grinder or appliance like a Thermomix or Vitamix
MASCARPONE CREAM
1

maple cream recipe

2 3/4 cups

mascarpone

1 1/4 cup

35% whipping cream
MAPLE-COFFEE SYRUP
3 tbsp

full-bodied espresso, prepared

1/2 cup + 1 tbsp

maple syrup (preferably golden syrup for its delicate flavour)
GARNISH
Maple sugar, to taste
Fresh raspberries (optional)
Method
Day Before
Prepare the maple cream, angel cake, and the maple-coffee syrup.
MAPLE CREAM
In a bowl, combine the gelatin and water. Place in fridge until needed.
Prepare a cold bain-marie with sieve to strain the maple cream.
In a heavy-bottomed saucepan, reduce the maple syrup, then add the cream to bring the temperature down.
Whisk the egg yolks, then add a little of the hot cream to temper them.
Add this mixture to the saucepan, whisking briskly. Stirring with a flexible pastry spatula, cook the cream to a temperature of 85° C (185° F) (until it coats a spoon), being careful not to boil it. Add the gelatin mixture
Run immediately through the sieve into the prepared bain-marie to chill. The maple cream must be cooled as quickly as possible.
Once cooled, pour maple cream into a container with a lid, cover and set aside in the fridge.
ANGEL CAKE
Preheat oven to 190° C (375° F).
Butter a 20 cm x 20 m (8 in x 8 in) Pyrex dish and line the bottom with parchment paper.
Beat egg whites with the salt and maple sugar until stiff peaks form.
Sift the flours.
Gently mix all the dry ingredients into the meringue.
Spread this dough into the prepared dish and bake for about 30 minutes.
Leave in dish for a few minutes to rest before turning out.
Cool and wrap in plastic until the next day for assembly.
MAPLE-COFFEE SYRUP
Make the coffee, then blend it with the golden maple syrup. Place in fridge.
MASCARPONE CREAM
Take the maple cream out of the fridge and whip it vigorously until smooth.
Add the mascarpone and whip to blend well.
Fold the whipping cream into the mascarpone mixture.
MAPLE-COFFEE SYRUP
Heat the maple-coffee syrup.
Assembly
Cut the cake in half horizontally.
Put half in your (cleaned!) Pyrex dish.
Pour half of the maple-coffee syrup over it.
Add half of the mascarpone cream.
Lay the other half of the cake onto the cream.
Pour on the other half of the maple-coffee syrup.
Add the rest of the mascarpone cream.
Sprinkle generously with maple sugar.
Refrigerate at least 6 hours before serving.
Refrigeration time: at least 6 hours
Preferably served with fresh raspberries in season.
The Quebec Maple Syrup Producers are not in any way responsible for the identification or presence of allergens in recipes or for the classification of any recipe as vegetarian or vegan.
Hundreds of Delicious Recipes
Maple is a special addition to any recipe, from appetizer to dessert. Find one that's perfect for you or your occasion!