Baby Potatoes with Maple-Caramelized Onions
---
Recipes with Maple Syrup / Recipes with Maple Vinegar / Starters / Vegetables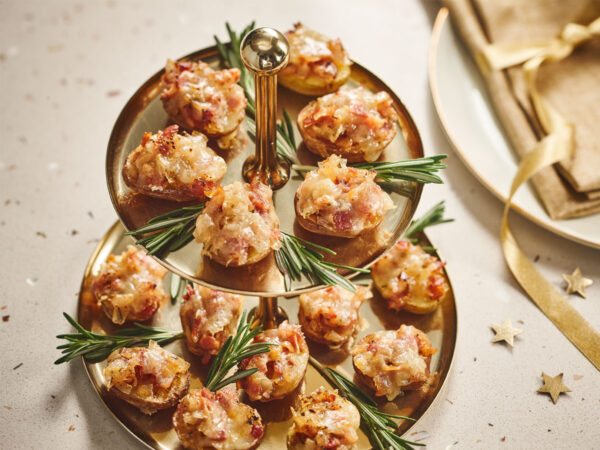 Ingredients
12

baby potatoes, halved

4

strips bacon, chopped

1

large onion, diced

2 tbsp

maple vinegar (or cider vinegar)

1 tsp

fresh rosemary, minced

1/4 cup

maple syrup (preferably golden syrup for its delicate flavour)
Salt and ground pepper

1 cup

old cheddar, grated
Method
Preheat oven to 220° C (425° F). Line a baking sheet with parchment paper or a silicone mat.
Spread the potato halves, cut side down, on the baking sheet and bake 20 minutes or until tender.
Meanwhile, fry the bacon in a pan over medium heat for 10 minutes.
Add the onion and cook another 5 minutes.
Deglaze with the maple vinegar and reduce liquid by half.
Add the rosemary and maple syrup and cook 5 minutes or until the liquid is almost gone. Season generously with salt and pepper, and remove from heat.
Turn the potatoes cut side up and spread the caramelized onion-bacon mixture over them, then sprinkle with the grated cheese. Return to oven, bake au gratin, and serve.
YIELD: 24 bite-size pieces
Storing
These dressed potatoes will keep in the fridge for about a week.
The Quebec Maple Syrup Producers are not in any way responsible for the identification or presence of allergens in recipes or for the classification of any recipe as vegetarian or vegan.
Hundreds of Delicious Recipes
Maple is a special addition to any recipe, from appetizer to dessert. Find one that's perfect for you or your occasion!