Maple-Asian Pork Cretons
---
Recipes with Maple Syrup / Starters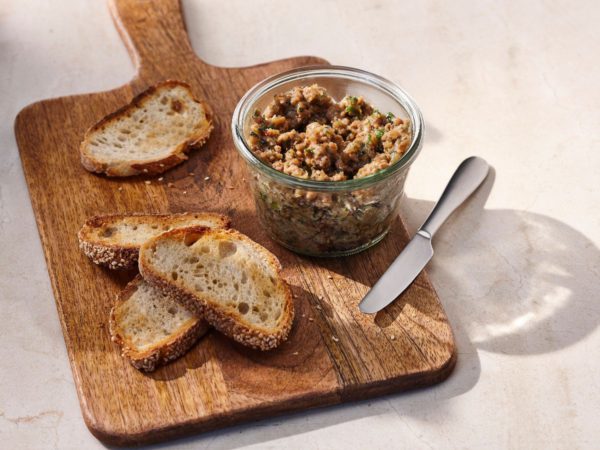 Ingredients
1 1/2 cup

onions, chopped

1/4 cup

garlic, chopped

1/4 cup

sesame oil

1

stalk of lemongrass

1/2 cup

ginger, chopped

6

kaffir lime leaves, crushed (found in Asian markets)

2 1/4 lbs

lean ground pork

2/3 cup

maple syrup

1/2 cup

soya sauce (Kikkoman)

1 tablespoon

ground black pepper

1 teaspoon

crushed hot pepper flakes

1 teaspoon

Chinese five spice powder

1 1/2 cup

bread crumbs

3/4 cup

green onions, chopped

2 1/2 cups

fresh cilantro, chopped

1 tablespoon

salt

1 cup

lard
Method
In a large saucepan, sweat the onion and garlic in the sesame oil for 2 – 3 minutes.
Remove the outer leaves of the lemongrass and add only the white part to the pan, along with the ginger and kaffir lime leaves. Sweat for 2 – 3 minutes.
Add the ground pork and cook for about 40 minutes or until it is cooked through.
Add the rest of the ingredients and cook for another 3 minutes, stirring well.
Spread the mixture on a large baking sheet so that it cools faster.
Remove the kaffir lime leaves and lemongrass.
Serve with toasted bread.
Note: When kept in an airtight container, all or a portion of the cretons can be frozen with no problem.
The Quebec Maple Syrup Producers are not in any way responsible for the identification or presence of allergens in recipes or for the classification of any recipe as vegetarian or vegan.
Hundreds of Delicious Recipes
Maple is a special addition to any recipe, from appetizer to dessert. Find one that's perfect for you or your occasion!