Maple Bagels
---
Bread / Recipes with Maple Sugar / Recipes with Maple Syrup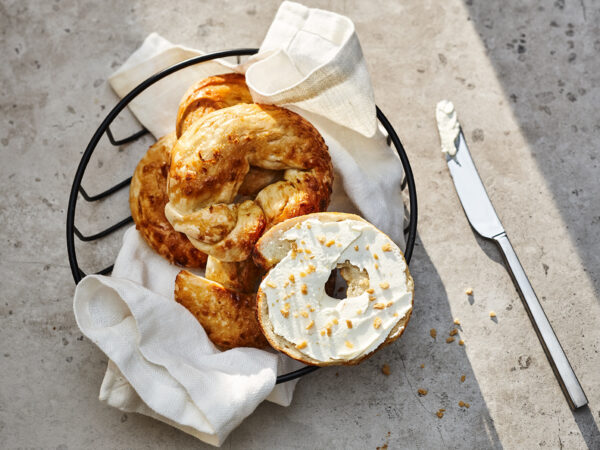 Ingredients
4 cups

all-purpose flour, unbleached

1 1/2 tsp

salt

1 1/2 cup

lukewarm water

1 tsp

maple sugar

1 tbsp

instant dry yeast

4 tbsp

unsalted butter, melted

3/4 cup

maple syrup (preferably dark syrup for its robust flavour or amber syrup for its rich flavour)

12 cups

water
Maple sugar for sprinkling
Method
In a stand mixer, use the dough hook to blend the flour and salt. Reserve.
Put the warm water into a bowl with 4 g (1 tsp) maple sugar and the instant dry yeast. Stir gently and let stand for 5 minutes. Add the melted butter and 60 ml (1/4 cup) of the maple syrup.
Pour the liquid mixture onto the flour and knead for 5 minutes with the electric mixer until it becomes smooth and forms into a ball.
Put the ball into a lightly oiled bowl and turn it a few times to coat well with the oil. Cover with a damp cloth and put it into the microwave with a cup of hot water. Close the door and allow to rest 30 minutes.
Put the dough on your work surface and shape it into a large tube, then cut into 12 equal portions. Shape each portion into a roll about 23 cm (9 in) long. Join the ends of each to form them into bagels. Roll the ends so they stick together well. Set them on a floured surface, cover with plastic wrap, and allow to rest 15 minutes.
Place the rack low in the oven, then preheat to 230° C (450° F). Line two baking sheets with silicone mats.
Pour 3 litres (12 cups) water and 125 ml (1/2 cup) maple syrup into a large pot and bring to the boil. Put 4 bagels in at a time, boiling 3 minutes or until they're slightly swollen, turning them over halfway through.
Use a slotted spoon to take the bagels out of the water and put them on the baking sheets. Sprinkle each bagel with maple sugar.
Bake one sheet of 6 bagels at a time, for 20 minutes or until the bagels are golden. Let cool 15 minutes before serving.
RISING TIME: 35 minutes
RESTING TIME: 30 minutes
SERVING SUGGESTIONS: Serve with Devonshire cream sweetened with maple sugar or light cream cheese and maple jelly, or simply with unsalted butter.
These maple bagels can be frozen.
The Quebec Maple Syrup Producers are not in any way responsible for the identification or presence of allergens in recipes or for the classification of any recipe as vegetarian or vegan.
Hundreds of Delicious Recipes
Maple is a special addition to any recipe, from appetizer to dessert. Find one that's perfect for you or your occasion!