Maple Caramel Tart
---
Fancy Pastries / Recipes with Maple Butter / Recipes with Maple Sugar / Recipes with Maple Syrup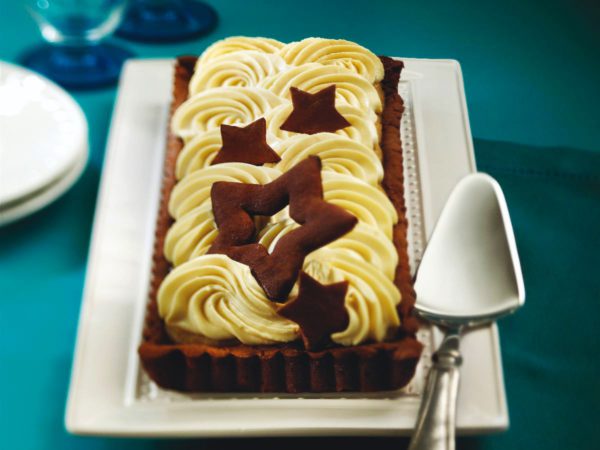 Ingredients
Tart Pastry
2 cups

unbleached all-purpose flour

1/2 cup

cocoa powder

1/2 teaspoon

baking powder

1

Pinch of salt

1 cup

maple butter

1/2 cup

unsalted butter, softened

1

egg, at room temperature
Caramel Filling
1/4 cup

unsalted butter, softened

3/4 cup

maple sugar

2 cups

milk

1/2 cup

unbleached all-purpose flour

1

Pinch of fleur de sel

2

egg yolks, at room temperature
Mascarpone Cream
1

mascarpone

1/2 cup

maple syrup (preferably dark syrup for its robust flavour)

1 teaspoon

vanilla extract

1/2 cup

plain yogurt
Maple sugar nuggets, to taste
Method
Tart Pastry
Sift together the first 4 ingredients in a large bowl. Set aside.
In the bowl of an electric mixer, beat together the butter, maple butter and egg, then add the dry ingredients and mix until the dough comes together. Cover with plastic wrap and refrigerate for 1 hour.
Preheat the oven to 180 °C (350 °F).
Roll out the dough to a thickness of 3 mm (1/8 in). Reserve a small amount of dough to make cut-out decorations.
Line a 35.5×12.5-cm (14×5-in) rectangular tart pan with the dough and prick with a fork. Cover dough with parchment paper and fill with a handful of dry beans (or pie weights).
Roll out the remaining dough and cut out stars or other shapes with a cookie cutter. Place shapes on a baking sheet.
Bake the tart shell and the cut-outs for about 15 minutes. Set aside.
Caramel Filling
In a heavy-bottomed saucepan, melt the butter and the maple sugar over medium heat, stirring frequently. Slowly add 375 ml (1 1/2 cups) milk and heat for about 3 minutes without allowing the mixture to boil. Keep the caramel warm.
In a bowl, whisk together the flour, fleur de sel, remaining milk and egg yolks, then add to the warm caramel. Cook for about 2 longer or until it starts to thicken.
Let cool 2 hours before pouring into the pre-baked tart shell.
Mascarpone Cream
In a bowl, stir the mascarpone to obtain a creamy consistency. Stir in the remaining ingredients.
Assembly
Carefully top the caramel tart with the mascarpone cream and garnish with cut-out shapes.
The Quebec Maple Syrup Producers are not in any way responsible for the identification or presence of allergens in recipes or for the classification of any recipe as vegetarian or vegan.
Hundreds of Delicious Recipes
Maple is a special addition to any recipe, from appetizer to dessert. Find one that's perfect for you or your occasion!