Maple-Glazed Grilled Asparagus and Cheese with a Raspberry Compote
---
Recipes with Maple Sugar / Recipes with Maple Syrup / Vegetables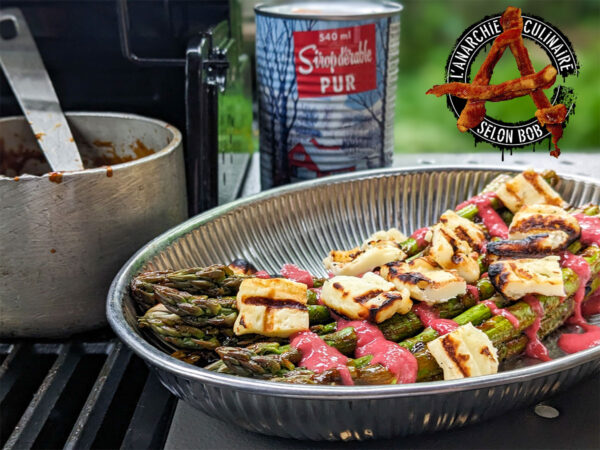 Ingredients
2 tsp

olive or vegetable oil

1 tbsp

butter

2

cloves garlic

1 tbsp

soy sauce

1/2 cup

ketchup

1/3 cup

maple syrup (preferably amber syrup for its rich flavour)
About 20 large asparagus

1 cup

raspberries

1 tbsp

fine maple sugar

1 tbsp

butter
Salt and pepper to taste
grilling cheese, sliced
Method
Preheat barbecue to about 240° C (450° F) for direct grilling.
In a saucepan, heat the oil over medium, then melt the butter, and sauté the garlic for about 2 minutes or until it just starts to colour.
Add the soy sauce, ketchup, and maple syrup.
Bring to the boil, reduce heat, and simmer about 10 minutes or until thick enough to coat the asparagus.
Prepare the asparagus by breaking or cutting the stems 1 – 2 cm from the ends. If desired, trim the lower parts with a vegetable peeler.
Grill asparagus about 2 minutes.
Brush asparagus generously with the maple sauce, letting it caramelize for about another 2 minutes, turning halfway through. Set aside.
Put raspberries, maple sugar, and butter into the centre of a sheet of aluminum foil.
Fold and seal into a package and place onto indirect heat (where the grill is not turned on) for about 10 minutes.
Remove, place into a bowl, season with salt and pepper, and use a blender to reduce the mixture to a compote. (Careful, it's very hot!)
Grill the slices of cheese for 2 – 3 minutes on each side. Cut into (approx.) 1.5 cm cubes. Set aside.
Arrange asparagus on your plates and top with the raspberry compote and grilled cheese.
Season as desired and serve immediately.
The Quebec Maple Syrup Producers are not in any way responsible for the identification or presence of allergens in recipes or for the classification of any recipe as vegetarian or vegan.
Hundreds of Delicious Recipes
Maple is a special addition to any recipe, from appetizer to dessert. Find one that's perfect for you or your occasion!