Maple Madeleines
---
Cakes / Recipes with Maple Syrup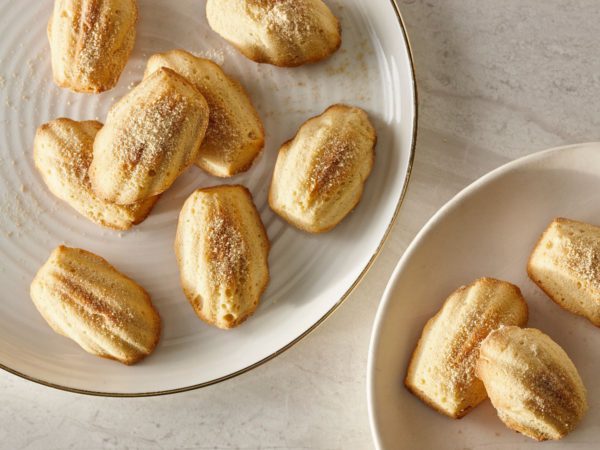 Ingredients
4

medium eggs

1 cup

maple sugar (plus extra to dust the madeleines)

1 2/3 cup

flour

1 teaspoon

baking powder

1 cup

unsalted butter, melted (200 g)
Method
In a bowl, whisk the eggs. Add the maple sugar while continuing to whisk well.
Sift the flour and baking powder together, then add to the egg-sugar mixture.
Whisk in the melted butter, scraping the bowl well.
Cover with plastic wrap directly on the batter and allow to rest in the fridge for at least 2 hours.
Place the oven rack in the centre position. Preheat to 180°C (350°F).
Butter the madeleine moulds generously and flour them. Pour batter into each mould to three quarters full. (If you do not have moulds, transfer batter to a pastry bag with a #6 round piping tip and form 26 madeleines on one or two large baking sheets.)
Bake 20 – 25 minutes.
Upon removing from oven, unmould the madeleines immediately and roll (dust) in maple sugar.
Keep in an airtight container or even freeze, if desired.
Resting time : 2 hours
Nancy Samson
The Quebec Maple Syrup Producers are not in any way responsible for the identification or presence of allergens in recipes or for the classification of any recipe as vegetarian or vegan.
Hundreds of Delicious Recipes
Maple is a special addition to any recipe, from appetizer to dessert. Find one that's perfect for you or your occasion!