Maple-Strawberry Yogourt Bark
---
Recipes with Maple Syrup / Yogurt and Parfaits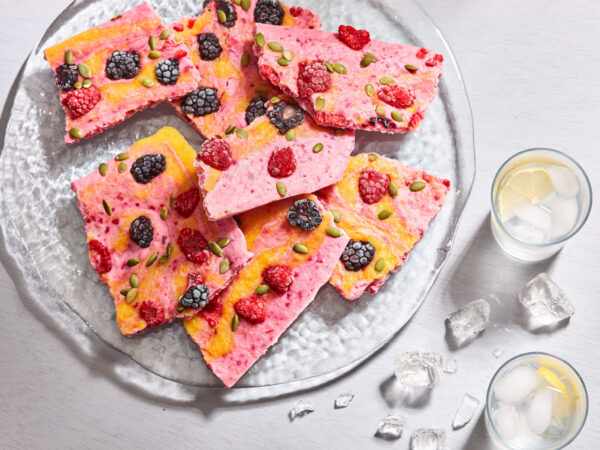 Ingredients
BARK
3/4 cup

fresh strawberries

1 tbsp

maple syrup (preferably amber syrup for its rich flavour)

1 1/2 cup

plain non-fat Greek yogourt
COULIS
1/2 cup

fresh or frozen (but thawed) mangoes, cubed

3 tbsp

maple syrup
TOPPINGS
1/4 cup

pumpkin seeds

10

raspberries, halved

7

blackberries, halved
Method
BARK
In a bowl, use a mixer to reduce the strawberries and maple syrup to a smooth purée.
In another bowl, blend the yogourt with the maple-strawberry purée into a consistent texture.
Spread this mixture on a baking sheet lined with parchment paper in a layer about 1 cm (3/8 in) thick.
COULIS
In a bowl, use a (clean!) mixer to reduce the mangoes and maple syrup to a purée.
Pour this mango coulis onto the yogourt. Use the tip of a knife to draw random shapes into the preparation.
TOPPINGS
Sprinkle the pumpkin seeds and halved berries on top.
FINAL PREP
Freeze for at least 2.5 hours.
When ready, break the bark at the cut-lines into 8 (or so) pieces.
Let the pieces you want to eat or serve rest for 3 minutes at room temperature. Put any others back into the freezer immediately.
FREEZING TIME: 2.5 hours
YIELD: 8 pieces (each about the size of your hand)
Nutritional Value per Portion
Calories: 120 kcal
Fat: 3.5 g
Carbohydrates: 14 g
Fibre: 1 g
Protein: 8 g
The Quebec Maple Syrup Producers are not in any way responsible for the identification or presence of allergens in recipes or for the classification of any recipe as vegetarian or vegan.
Hundreds of Delicious Recipes
Maple is a special addition to any recipe, from appetizer to dessert. Find one that's perfect for you or your occasion!