Maple Sugar Thin Apple Tartlets with a Maple – Green Adler Pepper Light Cream
---
Fancy Pastries / Recipes with Maple Sugar / Recipes with Maple Syrup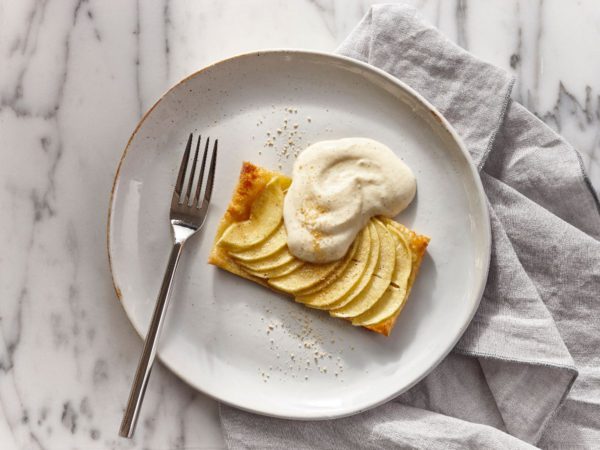 Ingredients
Thin Tartlets
7 oz

puff pastry (store-bought)

1

medium egg, beaten with 5 ml (1 tsp) water (egg wash)

3

yellow or McIntosh apples

2 tbsp

maple sugar

1 tsp

ground green alder pepper* (or 1 g [1/2 tsp] ground cinnamon)

2 tsp

cold butter
Light Cream
1

medium egg

2 tbsp

cornstarch

4 tsp

maple syrup (preferably dark syrup for its robust flavour)

1/3 cup

maple sugar

1 cup

milk

2 tsp

unsalted butter

1 tsp

ground green alder pepper* (or 1 vanilla bean, cut in half and seeded)

1/3 cup

35% whipping cream
Method
Tartlets
Preheat oven to 180°C (350°F).
Use a pin to roll the dough as thinly as you can and cut into 4 equal rectangles. Brush with egg wash.
Peel the apples, cut them in half and core, then cut into thin slices.
Arrange slices on the puff pastry, overlapping slightly.
In a bowl, combine the maple sugar and green alder pepper (or cinnamon), and sprinkle the mixture over the tartlets.
Cut the butter into small cubes and scatter them on the tartlets.
Bake 20 minutes and set aside.
Light Cream
In a bowl, whisk the egg, cornstarch, maple syrup and maple sugar until smooth.
In a saucepan over medium heat, heat the milk to a simmer.
Pour half the warm milk into the egg mixture and whisk well.
Return the egg-milk mixture to the pan and bring to a boil over medium heat, stirring constantly.
Add the butter and green alder pepper (or vanilla) and stir until well-blended.
Pour into a bowl, place plastic wrap directly onto the custard and allow to rest in the fridge for at least 4 hours.
Put the 35% cream into a bowl and use an electric mixer to whip it into firm peaks.
Take the custard from the fridge and whisk well to loosen it. Still whisking, add 1/3 of the whipped cream. Then, use a spatula to fold in the rest of the custard until smooth.
Let it cool for about an hour.
Serve your tartlets with the light maple-green alder cream.
REFRIGERATION TIME: 5 hours
* Green alder pepper, also known as poivre des dunes or dune pepper, comes from Canada's boreal forest.
The Quebec Maple Syrup Producers are not in any way responsible for the identification or presence of allergens in recipes or for the classification of any recipe as vegetarian or vegan.
Hundreds of Delicious Recipes
Maple is a special addition to any recipe, from appetizer to dessert. Find one that's perfect for you or your occasion!