Panna Cotta Cake with Duo of Maple Jellies
---
Cakes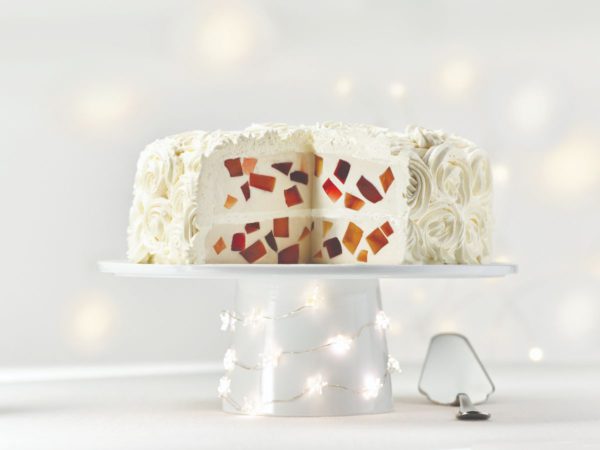 Ingredients
Vegetable oil (for the pans)
Jellies
1/2 cup

water

2

envelopes of unflavoured gelatine

1 cup

pure maple water

1 1/2 cup

maple syrup (preferably Golden for its delicate taste)

1 cup

cranberry juice
Maple panna cotta
4

envelopes of unflavoured gelatine

1/2 cup

cold water

3 cups

15% cream

1 cup

maple syrup (preferably Golden)

4 cups

plain Greek yogurt

2 teaspoons

vanilla extract
Maple whipped cream
3 cups

35% cream

1/4 cup

maple sugar
A few drops of vanilla extract
Method
Oil two 20-cm (8-in) square baking pans and set aside.
Jellies
Pour 60 ml (1/4 cup) of water into two bowls and sprinkle one envelope of gelatine on each. Leave to soften 5 minutes.
Meanwhile, in a saucepan, combine maple water and half of the maple syrup.
In another, combine the cranberry juice and the other half of the syrup.
Bring the contents of the saucepans to a boil, add a bowl of gelatine in each and mix until dissolved.
Pour each mixture into a 20-cm (8-in) square pan and refrigerate 4 hours or until well set.
Maple panna cotta
In a bowl, sprinkle the gelatine over the water and leave to soften 5 minutes.
Meanwhile, in a saucepan, pour the cream and maple syrup, heat on low heat a few minutes until the cream is steaming.
Add a little hot cream to the gelatine to dissolve it completely, and incorporate the gelatine with the remaining mixture of cream and maple syrup. Remove from heat, transfer to a bowl and let cool.
Stir in yogurt and vanilla and refrigerate for 30 minutes, stirring occasionally.
Oil two 20-cm (8-in) round pans, cover the bottom with parchment paper and set aside.
Cut the jellies into cubes, place them on the panna cotta and fold in gently. Pour into the round molds, using a spatula to even the surface and refrigerate for 4 hours.
Maple whipped cream
In a bowl, with an electric mixer, whip the cream to obtain soft peaks. Add maple sugar and vanilla extract while whipping until firm peaks appear.
Mounting
Slide a knife along the inner sides of the molds. Gently, unmold and transfer the first cake onto a serving plate. Garnish with a little whipped cream.
Unmold and place the second cake on top of the first one.
Pour the rest of the whipped cream into a pastry bag with a fluted tip.
Decorate the cake with rosette of whipped cream and refrigerate at least 2 hours before serving.
Refrigeration time: 10 hours (3 steps)
The Quebec Maple Syrup Producers are not in any way responsible for the identification or presence of allergens in recipes or for the classification of any recipe as vegetarian or vegan.
Add some Maple Taffy to your recipes
Maple is a special addition to any recipe, from appetizer to dessert. Find one that's perfect for you or your occasion!