Pastry Cream and Chocolate Maple Cake
---
Cakes / Recipes with Maple Sugar / Recipes with Maple Syrup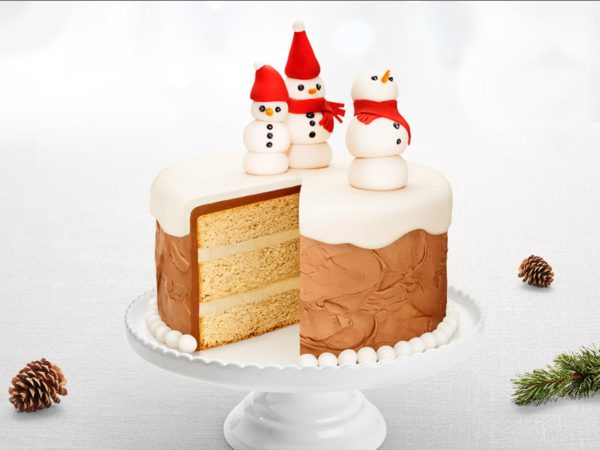 Ingredients
Maple syrup cake
3 cups

all-purpose flour

4 teaspoons

baking powder

1 teaspoon

bicarbonate of soda

1

Pinch of salt

3/4 cup

vegetable oil

1 1/2 cup

maple syrup (preferably dark syrup for its robust flavour)

3

eggs

1 teaspoon

vanilla
Maple sugar pastry cream
1/4 cup

unsalted butter, at room temperature

3/4 cup

fine maple sugar

1/2 cup

all-purpose unbleached flour

2 cups

milk

1

pinch of fleur de sel

2

egg yolks, at room temperature
Buttery chocolate and maple cream
1 1/2 cup

maple syrup

3

eggs

1

pinch of salt

1 1/2 cup

unsalted butter, at room temperature

9 oz

semi-sweet chocolate, melted and warm
Maple snowmen
2 tablespoons

gelatin

1/4 cup

water

2 tablespoons

glycerin (from pharmacies)

1/2 cup

liquid glucose (from pastry stores)

4 cups

maple sugar

4 cups

cornstarch
A few drops of red food colouring
A few decorative candies
Method
Maple syrup cake
Preheat oven to 180 °C (350 °F). Place rack in centre of oven.
Butter three 20-cm (8-in) diameter cake tins. Line bottom with parchment paper.
In a bowl, sift flour, baking powder, bicarbonate of soda and salt. Set aside.
Mix oil and maple syrup together. Add eggs and vanilla, and mix well. Add sifted ingredients and stir in well. Pour batter into tins.
Bake in oven for 25-30 minutes or until a toothpick inserted into centre of cake comes out clean.
Let cool 10 minutes, then run a thin blade around cakes to separate from tin. Remove cakes from tins and leave to cool completely on a wire rack.
Maple sugar pastry cream
In a heavy-bottomed saucepan, melt butter and maple sugar over medium heat, stirring frequently. Sprinkle in flour and mix well.
While stirring, pour milk in gradually and heat for about 3 minutes without boiling. Add salt and egg yolks, mix well and cook for another 2 or until thickened.
Remove from heat, pour into a container and cover with plastic wrap with wrap resting directly on cream.
Refrigerate 2 hours before adding to cake.
Buttery chocolate and maple cream
In a heavy-bottomed saucepan, bring maple syrup to a boil without stirring until temperature reads 115 °C (240 °F) on a candy thermometer. (Tip: To keep syrup from bubbling up and overflowing, put a wooden spoon in the saucepan before heating.)
In a bowl, use an electric mixer at medium speed to beat eggs with salt until foamy. Drizzle hot maple syrup into beaten eggs, avoiding mixer beaters. Beat continuously until completely cool, about 15 minutes.
Add butter 1-2 teaspoons at a time, beating until very creamy. Drizzle in melted chocolate until uniform texture.
Put icing on cake immediately.
Maple snowmen
Add gelatin and water to a saucepan. Leave to swell for a few minutes.
Over a low heat, dissolve gelatin, then add glycerin and glucose. Let cool for 2.
Using a food processor, blend maple sugar and cornstarch together. Add gelatin mixture and pulse until a ball forms.
Remove dough from bowl and knead on work surface, adding a little cornstarch if dough is too soft. Cover with plastic wrap and refrigerate 1 hour.
On a work surface dusted with cornstarch, roll out half of fondant with a rolling pin to obtain a 25-cm (10-in) diameter blanket of snow.
Cut round the outside in a wavy line and place blanket on top of cake. Use leftover fondant to make mini snowballs and place them around cake.
With some fondant, create balls of different sizes for snowmen heads and bodies. Set aside some fondant in a bowl. Add food colouring and mix in well. Use red fondant to create hats and scarves.
Use candies for eyes and buttons.
Decorate cake with snowmen.
Maple syrup cake
Assembly
If necessary, cut tops of cake layers to make them equal. Spread chosen filling on first cake layer, place second layer on top and add filling on top again. Add last cake layer and spread icing on top and on sides of complete layered cake. Use your choice of decoration to finish cake.
To view more Festive Maple Cake recipes, click here !
The Quebec Maple Syrup Producers are not in any way responsible for the identification or presence of allergens in recipes or for the classification of any recipe as vegetarian or vegan.
Hundreds of Delicious Recipes
Maple is a special addition to any recipe, from appetizer to dessert. Find one that's perfect for you or your occasion!