Plum Pudding Royale
---
Cakes / Recipes with Maple Spirits / Recipes with Maple Sugar / Recipes with Maple Syrup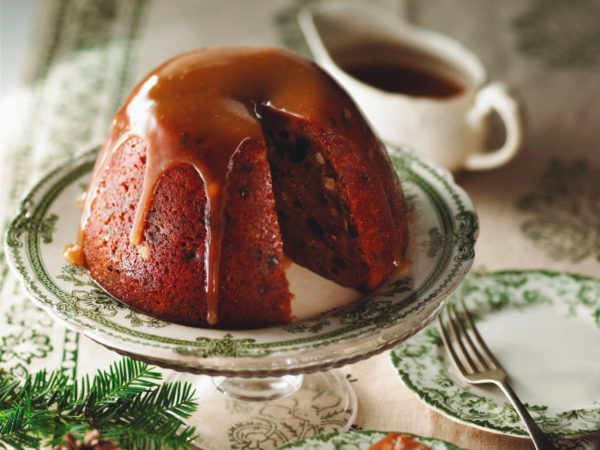 Ingredients
2 cups

dried fruit, chopped (dates, raisins, cranberries, prunes, figs, etc.)

1/2 cup

maple syrup (preferably dark syrup for its robust flavour)

1/2 cup

Maple Cognac or rum
Butter as needed

1 1/2 cup

all-purpose flour

1 tablespoon

baking powder

1

pinch of fine salt

1 teaspoon

ground cinnamon

1

Pinch of nutmeg

1

Pinch of ground cloves

4

eggs

3 tablespoons

butter, softened

1 1/2 cup

maple sugar

1/2 cup

milk

1 cup

white bread, crust removed, broken into small pieces
Caramel
1 cup

maple syrup (preferably dark syrup for its robust flavour)

1/4 cup

Maple Cognac or rum

1/2 cup

butter

1/4 cup

instant flour

1

pinch of salt
Method
Macerate the dried fruit in the 125 ml Maple Cognac or rum and the maple syrup for 24 hours.
Butter a 2-L (8-cup) pudding pan. Set aside.
In a bowl, sift together the dry ingredients and the spices. Set aside.
In another bowl, beat together the eggs, butter and maple sugar. Add the milk and the bread, mix to combine, then fold in the dry ingredients and the macerated fruit.
Pour batter into the prepared pan. Cover with a layer of parchment paper and then aluminum foil; tie with a string to keep the cover snug.
Place a towel or rack in the bottom of a very large pot. Place the pudding pan on top and pour boiling water around it until it is two-thirds submerged.
Cover and simmer for 4 hours over low heat. Check water level periodically during cooking. Add water as needed to keep it at the two-thirds level.
Remove pan from dish and let stand 15 minutes before unmoulding the plum pudding.
To serve, heat the maple syrup and 60 ml (1/4 cup) Cognac or rum. Brush pudding with warm mixture.
Mix the butter and flour into what is left of the maple syrup mixture and reduce. Add a pinch of salt and serve alongside the pudding.
This sauce is simply divine! It makes a delicious side to any dessert.
The Quebec Maple Syrup Producers are not in any way responsible for the identification or presence of allergens in recipes or for the classification of any recipe as vegetarian or vegan.
Hundreds of Delicious Recipes
Maple is a special addition to any recipe, from appetizer to dessert. Find one that's perfect for you or your occasion!