Québec Maple Cheddar Biscuits with Pink Peppercorns
---
Cookies and Galettes / Recipes with Maple Syrup / Starters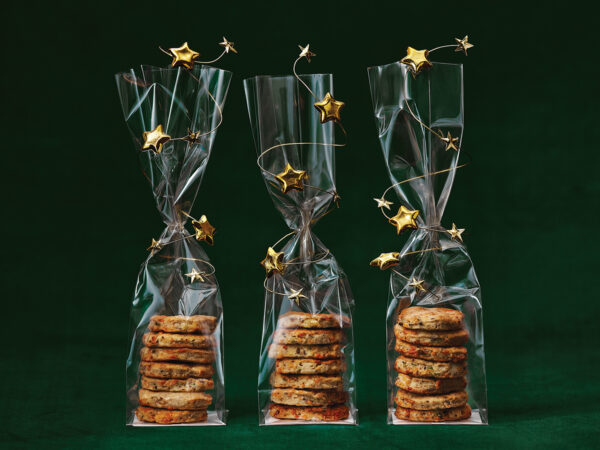 Ingredients
1/2 cup

unbleached all-purpose flour

1/4 cup

whole wheat flour

1/4 cup

grain mix (flaxseed, chia, camelina, hemp, etc.)

1/3 cup

maple sugar

1/2 tsp

baking powder

1/2 tsp

dry mustard

1/2 tsp

salt

1 tbsp

pink peppercorns

1 tbsp

fresh chives, chopped

1/3 cup

salted butter, softened

3/4 cup

strong Québec cheddar, grated

2 tbsp

milk
Method
Put the dry ingredients, pink peppercorns and chives into a food processor and grind.
Add the butter and mix to a shortbread consistency.
Add the cheddar and blend well.
With the food processor on, gradually add the milk to obtain a ball of dough.
Transfer dough to a lightly-floured surface and shape it into a 4 – 5 cm (1 1/2 – 2 in) thick round or oval. Cover with plastic wrap and refrigerate for at least 1 hour.
Pre-heat oven to 160° C (325° F).
Cut dough into slices about 3 mm (1/8 in) in diameter and place on a parchment paper-lined baking sheet, leaving a space of about 2.5 cm (1 in) between them.
Bake 8 – 12 minutes to make them golden and crispy.
Serve with your favourite spread such as hummus, soft cheese, goat cheese, smoked salmon mousse, etc.
REFRIGERATION TIME: 1 hour
Nice and salty, these biscuits make a great base for your holiday appetizers.
The Quebec Maple Syrup Producers are not in any way responsible for the identification or presence of allergens in recipes or for the classification of any recipe as vegetarian or vegan.
Hundreds of Delicious Recipes
Maple is a special addition to any recipe, from appetizer to dessert. Find one that's perfect for you or your occasion!