Québec Pork Loin in an Old Cheddar and Maple Sugar Crust with a Maple Black Garlic Purée
---
Pork / Recipes with Maple Syrup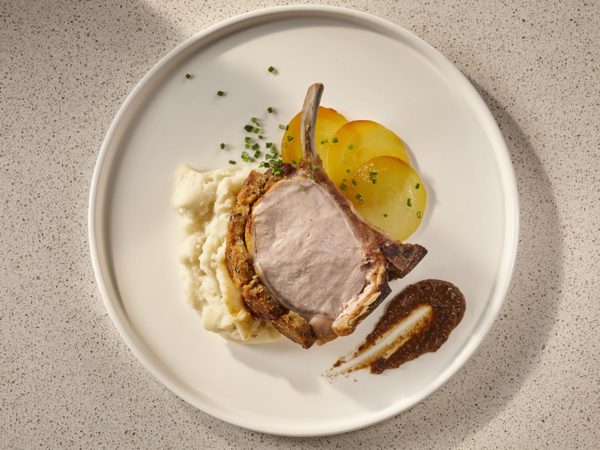 Ingredients
Old Cheddar Crust
2 cups

fresh bread crumbs

1/2 cup

gray shallots, chopped

3

cloves of garlic, chopped

1/3 cup

Sortilège Canadian whisky and maple syrup liqueur
butter, melted

1/3 cup

Québec old cheddar, grated

2 2/3 oz

fresh rosemary, leaves only

3 tablespoon

maple sugar, grated

1/3 cup

Salt and pepper, hand-ground
Pork Loin
1

pork loin (5 ribs)
Salt and pepper, hand-ground

2 2/3 oz

butter
Black Garlic Purée
2

bulbs of black garlic

1/4 cup

gray shallots, finely chopped

3/4 cup

chicken stock (white stock)

3 tablespoons

maple syrup
Salt, to taste

2 tablespoons

butter
Method
Old Cheddar Crust
Make the bread crumbs from crustless sliced bread in a food processor. Set aside.
In a small saucepan, sauté the shallots and garlic in butter, and flambé with the maple liqueur.
In a bowl, combine the melted butter and grated cheese. Add the other ingredients and make into a paste.
On wax paper, form the paste into a cylinder shape, and roll it up tightly. Wrap with aluminium foil and seal the ends well. Refrigerate for 1 – 2 hours.
Cut into 1 cm (1/2 in) rounds. Set aside
Pork loin
Remove the skin (rind) or ask your butcher to do so. Season well with salt and pepper.
In a hot skillet, brown the loin on all sides in butter.
Transfer to an ovenproof dish and cover with the crust rounds.
Roast at 180°C (350°F) for 30 – 35 minutes or until the internal temperature reaches 62°C (145°F). (If desired, brown the surface by turning the oven to broil.)
Remove from oven, cover loosely with aluminium foil, and allow to rest for about 20 minutes.
Slice and serve with the black garlic purée.
Black Garlic Purée
Peel the cloves.
In a skillet, sweat the shallots in butter.
Add the black garlic and chicken stock, then the maple syrup and salt.
Cook for 10 minutes over medium heat, then add to blender.
Add the butter and blend (beat), then serve.
Refrigeration time : 1 – 2 hours
Resting time : 20 minutes
Jean-Claude Chartrand
The Quebec Maple Syrup Producers are not in any way responsible for the identification or presence of allergens in recipes or for the classification of any recipe as vegetarian or vegan.
Hundreds of Delicious Recipes
Maple is a special addition to any recipe, from appetizer to dessert. Find one that's perfect for you or your occasion!