Hugo Houle
Professional Cyclist
Maple Sport Ambassador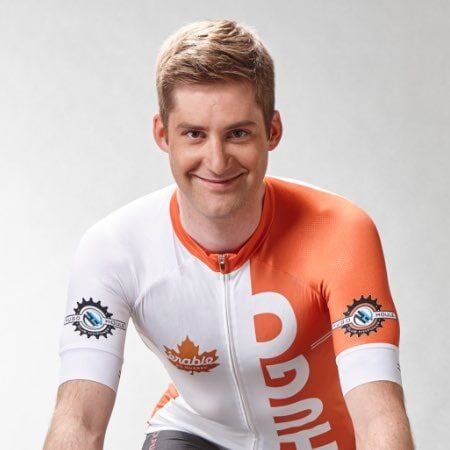 Portrait
Hugo Houle is a professional cyclist with Israel-Premier Tech. He won gold at the 2015 Pan Am Games in the Time Trial, his favourite event.
---
---
Hugo Houle: a Maple Fanatic!
Born in Sainte-Perpétue, Québec, Hugo Houle was just 22 years old when he became the first Quebecker to sign a contract with the AG2R La Mondiale team of the UCI World Tour – the highest professional cycling level in the world. Since then, he has won gold at the 2015 Pan American Games in Toronto, represented Canada at the 2016 Olympic Games in Rio de Janeiro and found success once again in 2017 at the Tour de Romandie in Switzerland, where his team had their best performance ever. In January 2018, Hugo signs an agreement with the team Kazakhe, Astana Pro team. Maple from Canada is proud to support this world-class road cyclist by fuelling him with the energy he needs!
THE TRACK RECORD OF A WINNER
2014
2nd place in the Canadian Time Trial
2015
Gold Medal in the Time Trials at Pan American Games
Canadian Time Trial Champion
2016
2nd place in the Tour de Beauce (Québec)
2021
Canadian Time Trial Champion
2022
Winner of 16th stage of the Tour de France
On July19, 2022, Hugo broke away from the pack, and sped 40 kilometres to win the 16th stage of the Tour de France. It was his first victory on the famed international race, the first for a Québec cyclist, and second for a Canadian, 34 years after Steve Bauer. Hugo Houle shed tears as he crossed the finish line, dedicating the victory to his brother Pierrik, who died in 2012.
Hugo Houle tells us about his experience!
I have always been a big eater and enjoyer of maple products. Every year at sugaring time, I'd put on my snowshoes and go out to collect the sap. After that hard work, I'd earned the right to have a stick of taffy made in the snow. It was a family tradition.
I think maple is the best natural sugar. I make sure to pack this little treasure in my suitcase, no matter where I'm going. Maple is a part of my pro-cycling diet every day at breakfast, during training or after in my recovery drinks. I am truly proud to be an ambassador for this classic and unique Québec product, and to represent it around the world.
I always need something sweet after a meal. Everybody knows I love to eat. Maple syrup does it for me every time – it's natural and it's good!
---
My recipe for success?
On stage races, 80% of my diet has to be pasta and white rice. For the other 20%, I spoil myself every morning with maple oatmeal. It gradually became my personal tradition – my magic potion. It gives me all the energy I need to take on whatever challenge is ahead of me that day! Also discover my new recipe maple recovery drink, perfect after my workouts or competitions!
Athlete
---
Québec's elite athletes claim maple as one of their secret weapons that help them perform better, wherever they go in the world. Maple from Canada is proud to support one of the best Québec's professional cyclists who is bringing international acclaim home. This athlete fuel up with this natural energy source before, during, and after training sessions. Find out all about him!
A source of natural energy
Maple syrup is a natural source of energy. Check out our recipes for food and drinks before, during, and after exercise.