Asparagus-Serrano Salad with Almond Cream and Maple-Mustard Vinaigrette
---
Main-Course Salads / Pork / Recipes with Maple Syrup / Salads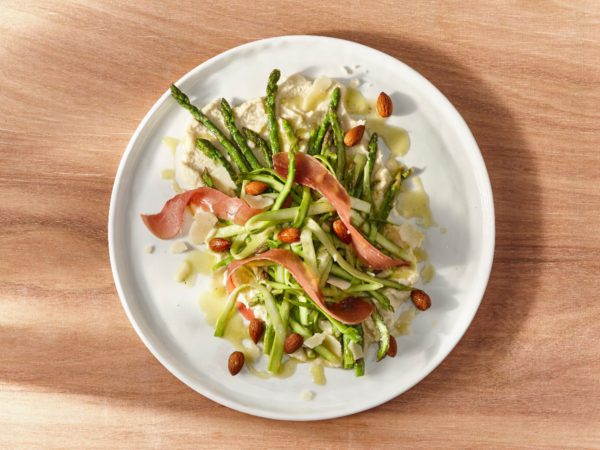 Ingredients
Almond Cream
1 cup

almond powder

1/2 cup

milk
Vinaigrette
1/2 cup

extra virgin olive oil

3 tablespoons

maple syrup (preferably golden syrup for its delicate flavour)

1/4 cup

lemon juice

1 tablespoon

piri piri mustard, or other spicy mustard

1

clove of garlic, chopped
Salt and pepper, hand-ground
Salad
28

spears of asparagus

1 to 2 tablespoons

extra virgin olive oil

1/4 cup

toasted almonds
Topping
1/4 cup

shaved cheese of your choice
A few slices of Serrano ham (a Spanish prosciutto)
Method
Almond Cream
Put almond powder and milk into a blender and run at maximum power for about 10 minutes.
Scrape the sides regularly with a spatula. Set aside.
Vinaigrette
In a small bowl, emulsify the oil and maple syrup.
Add the remaining ingredients, whisk, and adjust the seasoning as needed.
Salad
Using a peeler, peel the stems of 20 asparagus. Using a mandoline, slice them lengthwise, and place in a large bowl. Set aside.
In a pan, toast the other 8 asparagus for 3 – 4 minutes in a little olive oil. Set aside.
Pour the vinaigrette over the raw asparagus and mix well.
Add the toasted almonds.
Assembly
Spread the almond cream on a serving plate and arrange the toasted asparagus on top.
Cover with the raw asparagus salad with almonds.
Scatter the cheese shavings and slices of Serrano ham on top and serve.
The Quebec Maple Syrup Producers are not in any way responsible for the identification or presence of allergens in recipes or for the classification of any recipe as vegetarian or vegan.
Hundreds of Delicious Recipes
Maple is a special addition to any recipe, from appetizer to dessert. Find one that's perfect for you or your occasion!