Cheesecake Balls in a Maple-Nut Crumble
---
Cakes / Fruit Desserts / Recipes with Maple Sugar / Recipes with Maple Syrup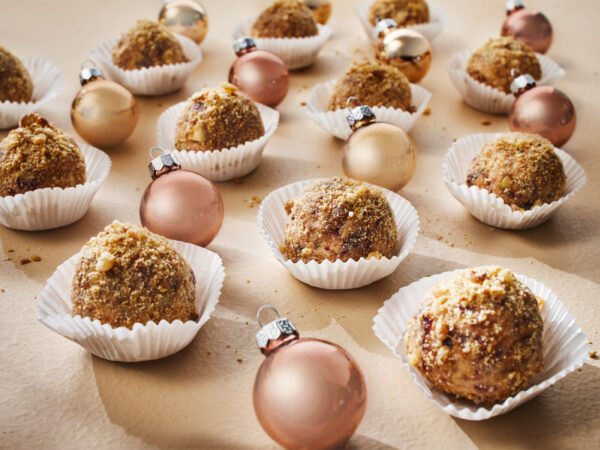 Ingredients
1/2 cup

walnuts (or pecans)

1/4 cup

whole almonds

1/3 cup

maple sugar

1/4 cup

graham cracker crumbs

1/2 lb container

cream cheese, softened

1/3 cup

dried cranberries
Method
Cover a plate or baking sheet with parchment paper.
Put a skillet on medium heat and warm the walnuts (or pecans) and almonds for 7 – 10 minutes, stirring occasionally.
Add 30 g (1/4 cup) of the maple sugar to the pan, allowing it to melt and stirring to coat and caramelize the nuts. Quickly transfer to the parchment paper surface and let cool.
Use a food processor to grind the nuts. Return them to the plate and mix in the crumbs.
Put 30 g (1/4 cup) of this nut mixture back into the food processor and add the cranberries. Chop finely.
Add the cream cheese and the rest of the maple sugar. Blend to a smooth texture.
Transfer the mixture to a bowl, cover, and refrigerate at least 2 hours so that it sets.
Use a spoon to form the cream cheese mixture into balls. Roll them in the remaining nuts.
REFRIGERATION TIME: 2 hours
YIELD: 24 balls
Storing
The caramelized nuts will keep at room temperature for 1 week.
The cream cheese balls will keep in the fridge for 1 week.
Once the cream cheese balls are rolled in nuts, they should be eaten the same day to enjoy the crunch!
The Quebec Maple Syrup Producers are not in any way responsible for the identification or presence of allergens in recipes or for the classification of any recipe as vegetarian or vegan.
Hundreds of Delicious Recipes
Maple is a special addition to any recipe, from appetizer to dessert. Find one that's perfect for you or your occasion!