Decadent Maple-Pecan Cookie Dough Delights
---
Cookies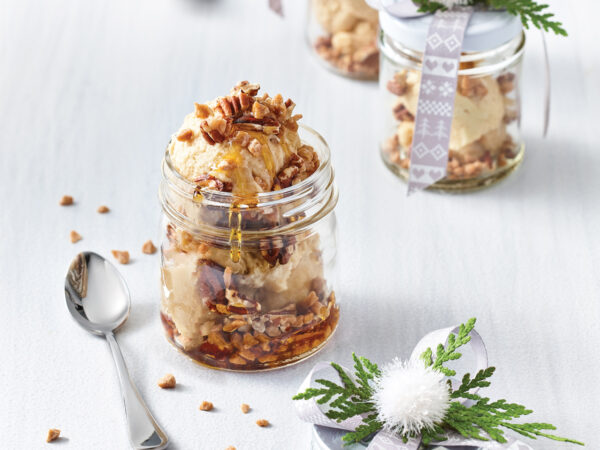 Ingredients
1 1/2 cup

unbleached all-purpose flour

2/3 cup

salted butter, softened

1/2 cup

maple butter, maple sugar, maple taffy, or maple syrup (preferably dark syrup for its robust flavour)

1/2 tsp

pure vanilla essence

1/4 cup

milk

1/3 cup

maple nuggets

3/4 cup

pecans, toasted and coarsely chopped
Method
Pre-heat oven to 160° C (325° F).
Put flour into an ovenproof dish and bake 20 minutes. Allow to cool a few minutes.
In a bowl, use a wooden spoon to blend the butter with your chosen maple product and the vanilla.
Gradually add half the flour, stirring to keep the mixture smooth. Add the milk and the rest of the flour, incorporating well.
Use an ice cream scoop to form 8 balls, about 55 g (1/4 cup) each. Put a ball into each of 4 little pots or jars and sprinkle with half of the maple nuggets and pecans.
Add a second ball to each container and sprinkle with the rest of the nuggets and pecans.
At this stage, most maple-lovers will top each dessert with a drizzle of maple syrup. Then serve.
* Volume or weight measurement will vary according to which product you use. That's 165 g for maple butter, 65 g for maple sugar, 170 g for maple taffy, and 125 ml for maple syrup.
The Quebec Maple Syrup Producers are not in any way responsible for the identification or presence of allergens in recipes or for the classification of any recipe as vegetarian or vegan.
Hundreds of Delicious Recipes
Maple is a special addition to any recipe, from appetizer to dessert. Find one that's perfect for you or your occasion!