Mascarpone Maple Cake
---
Cakes / Recipes with Maple Butter / Recipes with Maple Sugar / Recipes with Maple Syrup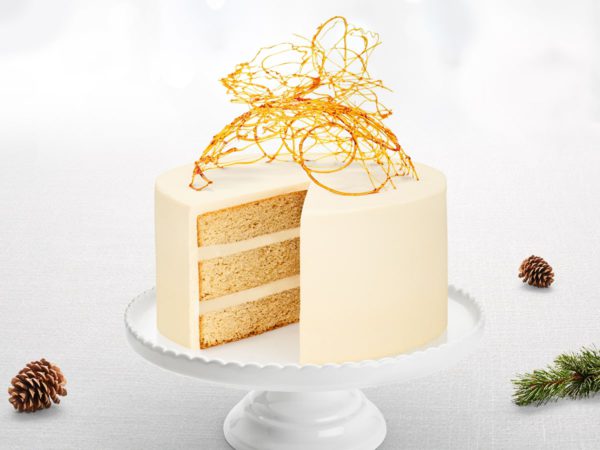 Ingredients
Maple syrup cake
3 cups

all-purpose flour

4 teaspoons

baking powder

1 teaspoon

bicarbonate of soda

1

Pinch of salt

3/4 cup

vegetable oil

1 1/2 cup

maple syrup (preferably dark syrup for its robust flavour)

3

eggs

1 teaspoon

vanilla
Whipped maple butter mascarpone
1/2 cup

mascarpone, at room temperature

1/2 cup

cream cheese, at room temperature

1/2 teaspoon

vanilla extract

1/2 cup

maple butter, at room temperature

1

pinch of salt
Creamy maple icing
1 1/2 cup

maple sugar

1 1/2 cup

unsalted butter, at room temperature

3

packages of plain cream cheese (250 g), at room temperature

1 teaspoon

vanilla extract
Maple sugar angel hair
1/2 cup

fine maple sugar

3 tablespoons

water

1 tablespoon

clear corn syrup glucose (from speciality pastry shops)
Vegetable oil
Method
Maple syrup cake
Preheat oven to 180 °C (350 °F). Place rack in centre of oven.
Butter three 20-cm (8-in) diameter cake tins. Line bottom with parchment paper.
In a bowl, sift flour, baking powder, bicarbonate of soda and salt. Set aside.
Mix oil and maple syrup together. Add eggs and vanilla, and mix well. Add sifted ingredients and stir in well. Pour batter into tins.
Bake in oven for 25-30 minutes or until a toothpick inserted into centre of cake comes out clean. Let cool 10 minutes, then run a thin blade around cakes to separate from tin. Remove cakes from tins and leave to cool completely on a wire rack.
Whipped maple butter mascarpone
Add all ingredients in a bowl and use an electric mixer to whip for 3 minutes or until a nice creamy texture.
Spread filling between cake layers.
Creamy maple icing
In a bowl, use an electric mixer to beat maple sugar with butter. Add cream cheese and vanilla, mix well.
Refrigerate at least 15 minutes before adding to cake.
Maple sugar angel hair
In a heavy-bottomed saucepan, add all ingredients except oil and bring to a boil without stirring.
Remove from heat when caramel is amber in colour and place saucepan in a large bowl of cold water to stop cooking.
Line a cookie sheet with parchment paper.
Coat outside of two 10-cm (4-in) glass or metal bowls with oil and place upside down on cookie sheet.
Soak the prongs of a fork in hot caramel and create angel hair by waving fork back and forth over each bowl until no more syrup remains.
Leave angel hair to cool on bowls.
Carefully remove hair strands from bowls.
Place domed strands on cake and break some strands into pieces to decorate tops of bottom strands.
Maple syrup cake
Assembly
If necessary, cut tops of cake layers to make them equal. Spread chosen filling on first cake layer, place second layer on top and add filling on top again. Add last cake layer and spread icing on top and on sides of complete layered cake. Use your choice of decoration to finish cake.
To view more Festive Maple Cake recipes, click here !
The Quebec Maple Syrup Producers are not in any way responsible for the identification or presence of allergens in recipes or for the classification of any recipe as vegetarian or vegan.
Hundreds of Delicious Recipes
Maple is a special addition to any recipe, from appetizer to dessert. Find one that's perfect for you or your occasion!