Foie Gras Torchon with Maple Gel and Sortilège-Maple Sugar Caramelized Peaches
---
Duck / Recipes with Maple Spirits / Recipes with Maple Sugar / Recipes with Maple Syrup / Starters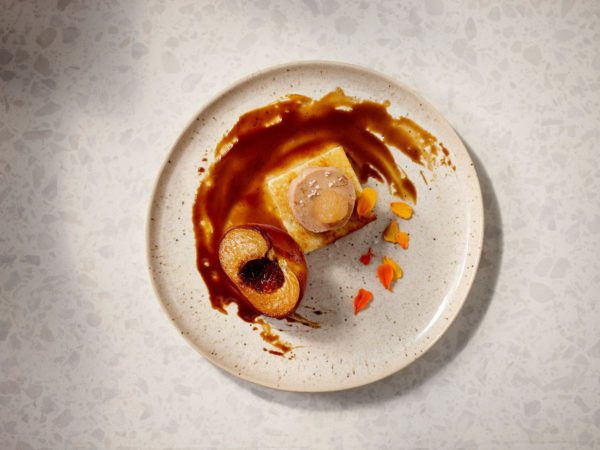 Ingredients
Foie Gras Torchon
1

lobe of foie gras torchon, preferably from Québec (75 g [2 1/2 oz] per person)
Maple Gel
1 cup

maple syrup (preferably amber syrup for its rich flavour)

2 cups

water

1

Zest of 1 lemon

2 teaspoons

sherry

1

Zest of 1 orange and juice of 1/2 orange

1 teaspoon

35% whipping cream

1 teaspoon

agar-agar
Salt, to taste
Caramelized Peaches
2

well-ripened peaches (or Rougemont McIntosh apples)

3/4 cup

maple sugar

1/3 cup

Sortilège Canadian whisky and maple syrup liqueur
Method
Maple Gel
Combine all ingredients in a saucepan.
Bring to a boil for 30 seconds. Refrigerate overnight.
Put in blender and blend to a good mousse consistency.
Caramelized Peaches
Cut peaches in half and remove pits.
Make a dry blonde caramel by putting the maple sugar in a non-stick pan and stirring it constantly with a wooden spoon until it melts.
Place the peaches into the caramel, flesh side down, and caramelize.
Deglaze with the maple liqueur. The peaches should be well-coated with caramel.
Reserve at room temperature. (This step can be done in advance.)
Assembly
Cut a slice of foie gras and place on a nice dinner plate.
Add a caramelized peach half and 30 ml (2 tbsp.) of maple gel.
Suggestions
This appetizer can also be served with two good slices of brioche bread (found in fine bakeries) spread with unsalted butter and oven-toasted to obtain a nice colour. Decorate the plate with edible mini-flowers or fresh sprouts, if desired.
Refrigeration Time: 12 Hours
The Quebec Maple Syrup Producers are not in any way responsible for the identification or presence of allergens in recipes or for the classification of any recipe as vegetarian or vegan.
Hundreds of Delicious Recipes
Maple is a special addition to any recipe, from appetizer to dessert. Find one that's perfect for you or your occasion!